Tyson Fury on Wilder:

"I need somebody of his level, and caliber, and danger to bring the best out of me..."
"I know deep inside you can't beat me. I'll retire unbeaten, heavy weight champion of the world like Rocky Marciano, the 2nd man to do it in history..."

Deontay Wilder on Fury:
"I could like you and I could say I can love you as a man and look you in your eyes and really genuinely mean that, but when the night of the fight comes You not going to be looking in the eyes of Deontay Wilder..."
If these type of competitive-grilling events between championship boxers don't get your competitive juices flowing in some way then you are, for sure, cut from a different cloth than I am.

This chapter in boxing is becoming one of the most exciting to unfold in recent memory - at least for me. I was in my senior year of college when I attended a fight party to see Mayweather vs. Pacquiao and I remember the pre-game hype and speculation being nearly as intense as it is now for Wilder vs Fury. For years, we heard that "Mayweather isn't the best until he beats Paqciauo," and so after all of the deals that fell through and promotion letdowns we suffered as boxing fans, we were finally gifted with what we thought would be another one of boxing's infamous classics but we were ultimately given a one sided and uneventful fight; one where Mayweather routinely outboxed and outwitted a seemingly uninspired and/or "injured" Manny Pacquiao.

Now, 3 years later, we're hearing serious talks of Floyd "Money" Mayweather coming out of retirement once more to defend his 'perfect resume' against Manny Pacqiao one more time.
For me personally, I don't think Manny is inspired enough to not only win but also not even present himself as a serious threat to Mayweathers glorious defense and unbeaten streak.
Here's a closer look into the Rematch:
As rumors already have it, this looks to be just another money grab for both fighters but perhaps to Mayweather, it's an opportunity to steal some limelight away from the heavy weight division and to get the people talking about him maybe one time before he finally decides to sail off into the sunset.
Which do you want to see?
The fight between two heavy weight phenomenons who both took very little time to agree to a fight or do you want to see the rematch that almost no one is anticipating; between boxers who are far past their prime and are not as explosive as what we see from the heavy weight division.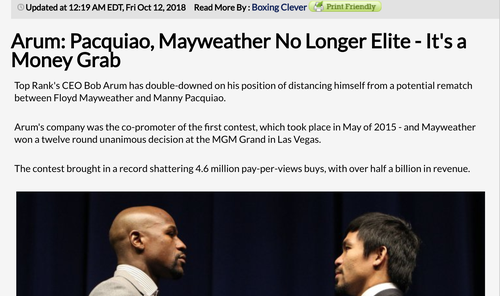 "If a rematch takes place, it wouldn't likely go down until the first half of 2019...
Arum:
"I don't want any part of it. They're past their prime. It'll do good at the box office. It'll make money, which is fine. But, they're not elite fighters anymore," Arum told TMZ Sports.
"It's a money grab... It's good money for each of them. You can't begrudge them, but they're not elite anymore."
What's even better is that all the hype is coming from the heavyweight division. I was born in 93 and growing up I wasn't uniquely attuned as others were to all the big influences/personalities in boxing- Mike Tysons, Hopkins, Hollyfield, Jones Jr, and more. As I get older and start to appreciate some sports more than others now, I've come to believe that boxing definitely has enticed aI cant tell if it's from Mayweather.
Another Fight that True Boxing Fans Just Ain't Looking Forward To:
Mayweather VS. Kabib from UFC
And most recently, UFC's reigning champ, Khabib Nurmagomedov calls out Floyd Mayweather on the heels of his latest victory over Connor McGregor.
Floyd Responds: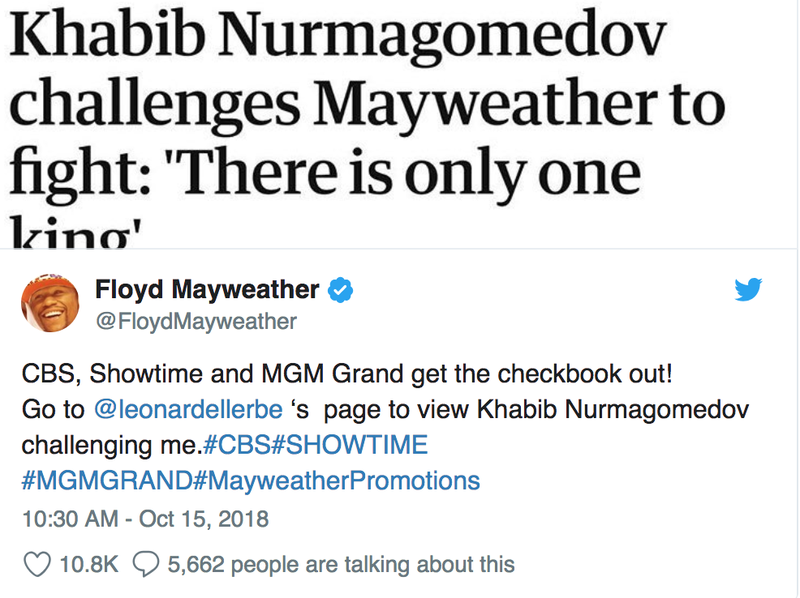 What do fans think? Is it time for Floyd to take a seat or would we enjoy watching him pick apart yet another UFC champion for another easy check?
"I speak it, believe it, receive it And It's mine baby" -Wilder... This is really all I want to see play out in the coming months of boxing... Wilder Vs. Fury.