Oscar Dela Hoya - On December 8, 2008, king of the ring Manny Pacquiao mangled Oscar De La Hoya to pups, winning via technical knockout in eight rounds and forcing the Barcelona Olympic gold medallist to retire on his tools

Nine years and seven months later last July 15, the now 39-year-old Philippine senator overwhelmed Argentine welterweight champion Lucas Matthysse to win by TKO in the seventh round for the latter's WBA 147-pound jewel while forcing him to hang his gloves kneeling.
Despite the absence of belt on the line, the Pacquiao-De La Hoya encounter, billed as "The Dream Match," propelled the Filipino to full stardom justifying his status as the then No.1 pound-for-pound fighter in the world by boxing bible Ring Magazine.
The fight, held at the MGM Grand Garden Arena in Las Vegas, ended when De La Hoya failed to answer the bell signalling the start of ninth round. It was the Pacman's, then the reigning WBC lightweight champion of the world, first fight as a welterweight, having to step up two weight divisions. DLH, past holder of 10 world titles in six weight classes, on the other hand, had to go down from light-middleweight to welterweight.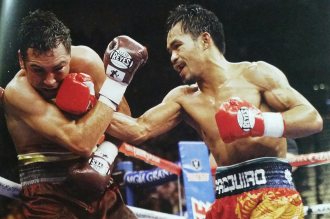 2. Lucas Matthysse - Matthysse, actually, was the third world champion Pacquiao sent to oblivion, the second being Timothy Bradley, the guy who dethroned him of his welterweight diadem in 2012, which he won at expense Miguel Cotto in 2009.
Matthysse finally decided to walk away which he said 'changed his life,' a fortnight and a week after losing his belt in what was billed as a 12-round confrontation held at the Axiata Arena in Kuala Lumpur.
Former titlist Matthysse announced his retirement Wednesday last week via his social media account in his hometown of Trelew, Chubut, Argentina. He retired with a ring record of 39-5 with 36 KOs, including his title-clinching eighth-round stoppage of Tewa Kiram of Thailand last January in Inglewood, California.
Called "La Maquina," the 35-year-old was making the first defense of his crown against Pacquiao, who dropped him thrice on the way to the TKO victory. Nonetheless, the fight also proved to be the most lucrative of his 14-year career after earning a prize purse of $2 million.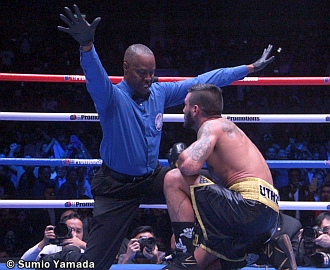 3. Timothy Bradley - Bradley, who worked his way from fighting on small club shows in Southern California to becoming one of the best pound-for-pound fighters in the world, announced his retirement August last year, following a unanimous decision loss to Pacquiao in the third chapter of their classic trilogy.
Bradley (33-2-1, 13 KOs), who turns 35 on Aug. 29, won world titles at junior welterweight and welterweight -- five belts in all -- made millions and lost only to Pacquiao in their second and third fights. The third fight, in April, 2017, was Bradley's final bout. Bradley's split-decision win over Pacquiao to claim a welterweight world title in their first fight in 2012 will go down as one of the most controversial decisions in boxing history, as virtually everybody had Pacquiao winning easily except for two judges.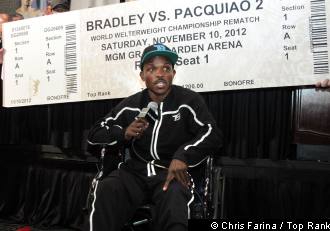 4. Ricky Hatton - Former two-weight world champion Ricky Hatton has announced his retirement in 2011 at the age of 32.
Hatton has not fought since suffering a crushing IBO light-welterweight world title setback at the hands of Pacquiao also in Las Vegas in 2009, or two years following the second round stoppage handed him by the then Sarangani congressman. Incidentally, Hatton's only other defeat in his 47-fight career came as a welterweight against Floyd Mayweather Jr in 2007.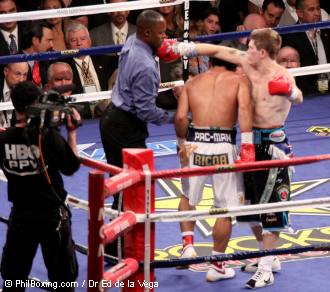 5. Antonio Margarito - Pacquiao met the taller, heftier Margarito for the vacant WBC super-welterweight gonfalon on November 13, 2010 before a crowd of 41,743 at the cavernous Cowboy Stadium in Arlington, Texas that saw Manny became the only man in the history of sweet science to win an unequaled eight-division championship.
Paqcuiao was outweighed by 17 pounds on fight night but still dealt Margarito a savage beating in dominant performance that should have been stopped in the latter of the 12-round contest.
Despite his smaller frame (5' 6-​1⁄2" to Margarito's 5'11", and lower weight (148 lbs vs. Margarito's 165 lbs). Pacquiao hammered Margarito with his superior speed and technique. Margarito sustained three cuts, prompting Pacquiao to ask the referee, Laurence Cole, to stop the fight. Ringside commentators agreed as well that the fight should have been stopped. Due to his injuries, including a career threatening a broken right orbital bone, Margarito was brought to a nearby hospital and was unable to attend the traditional post-fight press conference. He later underwent surgery.
Margarito (38-8, 27 KOs) called his fighting career two years later.