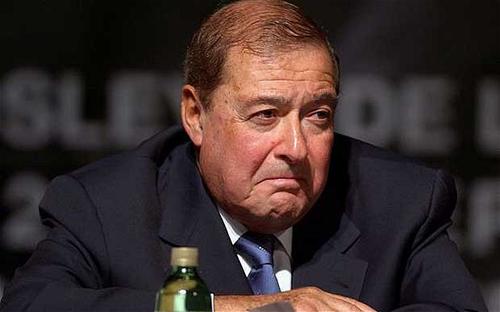 Manny Pacquiao Promotions business head Arnold Vegafria clarified that the fight for the WBA title between Lucas Matthysse of Argentina and eight-division world champion Manny Pacquiao on July 15 at Axiata Arena in Kuala Lumpur, Malaysia will continue and still on the game.
"Everything is being arranged and on schedule for the July 15 Fight of Champions between Manny Pacquiao and Lucas Matthysse in Kuala Lumpur Malaysia," said Vegafria at Philboxing.com.
An insider in the Pacquiao camp said "bitterness" is the cause of Top Rank big boss Bob Arum and still trying to sabotage the fight against Pacquiao and Matthysse.
The source also blamed Arum why Pacquiao's fight against the former world champion Amir Khan in Dubai was discontinued because he was disappointed with Pacquiao's own promotion.
The rumors that the fight will be canceled was when ESPN senior boxing writer Dan Rafael writes that MP Promotions fails to pay Matthysse $2 million in his escrow account so the championship is at risk.
According to ESPN, "MP Promotions has only made a payment of $500,000 to Matthysse and his promoter Golden Boy and still owes them $2 million more for the title fight."
But Pacquiao rightly denied it at Philboxing.com and thanked Oscar Dela Hoya for understanding his new-in-one promoter.
Former Arum's boxer, Dela Hoya, left the Top Rank and promoted his own battles. Arum also was the reason for losing former pound-for-pound king Floyd Mayweather Jr. who also promoted himself as a boxer.
Arum is interested in promoting Matthyse against the new WBO welterweight titlist Terence Crawford who seized the crown of Aussie Jeff Horn.
"I do not know what's going to happen with the fight, but if it does not happen, I would hope to talk to Golden Boy about having Matthysse fight Crawford," Arum told ESPN.
Vegafria added that both training of Pacquiao and Matthysse were so strong for the fight.
"Both Pacquiao and Matthysse are training hard in their respective camps to give the fans that will be watching the fight all over the world an action-packed, competitive battle," Vegafria said.
Arum cannot control anyone! I think he is the problem here. Every boxer has their own freedom of who will they gonna fight.
The fight for the Champions is still on!