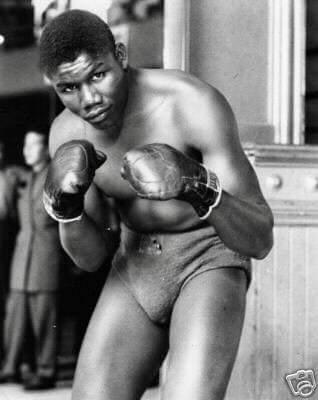 The Boxing Register: International Boxing Hall of Fame Official Record Book
By James B. Roberts, Alexander G. Skut
Not so long ago, when there were just 8 weight classes and one champion in each, even fighters considered all-time greats were not guaranteed a chance at a championship belt. Jimmy Bivins is one such boxer. Few fighters have maintained as high a level of excellence as Bivins for such a long time, or fought so many quality opponents.
Bivins' family moved to Cleveland when he was two. He worked an assortment of jobs while in school, and he was a good student. After graduation, Bivins began visiting local gyms. In his first fight against a more experienced boxer, Bivins easily dominated his opponent. His performance attracted the attention of Wilfred "Whizbang" Carter, an amateur trainer who entered Bivins in the 1937 Golden Gloves competition, where he won the 126lb-novice title. Two years later in 1939 Bivins won the 147lb open division title, beating Joey Maxim, finished second in the nationals to Cozy Storace of Rome, New York, then turned professional.
Carter continued as Bivins trainer and Charles "Claude" Shane Jr. became Bivins manager. On January 15th, 1940, Bivins made his pro debut as a welterweight with a one-round triumph against Emory "KO" Morgan. Bivins soon moved to middleweight and quickly faced top competition. On April 8th, 1940, Bivins won an eight-round decision over Nate Bolden, and in September decisioned Hall of Famer Charley Burley. Bivins closed 1940 splitting two decisions with Anton Christoforidis, who would win the NBA light heavyweight title in his next fight. In his incredible debut year Bivins won nineteen of twenty fights against some excellent opponents.
While Bivins continued to face very high-quality opposition, his chances for a title shot in 1942 were hurt when titles were frozen for the duration of World War II. He started the year with a punishing ten-round decision over former middleweight champion Billy Soose, who retired after the fight. Bivins next defeated light heavyweight champion Gus Lesnevich in a non-title bout in Cleveland, but the win hurt his chances of a for a title match. After the fight Lesnevich's manager said, "This guy is too good for us - now or ever." Bivins did lose to heavyweight Bob Pastor in his next fight, but he avenged that defeat later in the year. He also decisioned Hall of Famer Joey Maxim and top heavyweight contenders Tami Mauriello and Lee Savold.
The next year, 1943, opened with a decision over Hall of Famer Ezzard Charles, whom he knocked down four times. The next month, Bivins decisioned Christoforidis for the "duration" light heavyweight title. On March 12th, 1943, Bivins won eight of ten rounds for an easy decision against Mauriello for the "duration" heavyweight title. Bivins fought only once in 1944 before he was inducted into the army, but he returned from the service as strong as before with a sixth-round knockout of Hall of Famer Archie Moore.
On February 25th, 1946, Bivins lost a disputed split decision to Hall of Famer and future heavyweight champion, Jersey Joe Walcott. Had Bivins won, he might have received the title shot against Joe Louis instead of Walcott.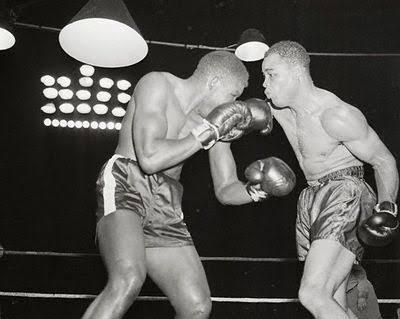 Bivins bounced in and out of top ten contender status in the late 1940's. Though he beat heavyweight contender Rusty Payne and light heavyweight contender Leonard Morrow, in 1949 he lost decisions to Morrow and to Hall of Famer Harold Johnson, and was knocked out by Archie Moore in eight rounds.
Bivins fought his last bout on October 28th, 1955, when he decisioned up-and-coming Mike DeJohn.
In retirement, Bivins worked for a Cleveland bakery and as a trainer of amateurs, gym owner, and boxing judge. Sadly, in 1998 Bivins was found imprisoned by his son-in-law and daughter in a filthy attic. He was in terrible health when he was rescued, and after hospitalization he came under the care of a family and friends, while his son-in-law pleaded guilty to elder abuse.