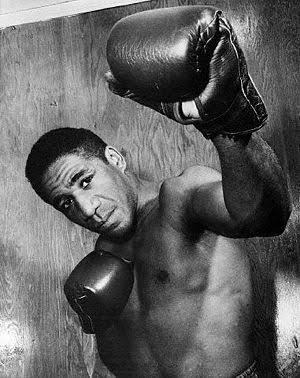 Luis Rodriguez was a top welterweight of the 1960's, along with his frequent rival and fellow Hall of Famer, Emile Griffith. Rodriguez and Griffith fought 4 times, each bout going to the scorecards. Rodriguez won the unanimous decision in the series; Griffith took the rest on splits.
Born in Camaguey, Cuba, the city that produced Kid Gavilan, Rodriguez grew up in poverty and, while still a boy, had to work selling newspapers and shining shoes. Rodriguez learned to box and won a Cuban National Golden Gloves title, knocking out ten consecutive opponents. His first pro fight was a three round knockout win on 2nd June, 1956. Except for one bout that was stopped by rain, Rodriguez won all of his first 35 fights. Manager Ernesto Corrales took Rodriguez to Florida and signed him with Angelo Dundee as co-manager. Rodriguez went on to decision a series of strong opponents, including Benny "Kid" Paret, Virgil Atkins, Garnett "Sugar" Hart and Chico Vejar, and earned the Ring Magazine's ranking as the top contender for the world welterweight crown in 1959.
Despite his top-contender status in 1959, 1960, and 1962 (he was ranked 4th in 1961), Rodriguez did not get a chance to fight for the title. Still, "El Feo," or "The Ugly One," as he was called, continued to achieve great success. On 17th December, 1960, he met Griffith in Madison Square Garden in a non-title contest. Griffith was awarded a split decision in a very close fight.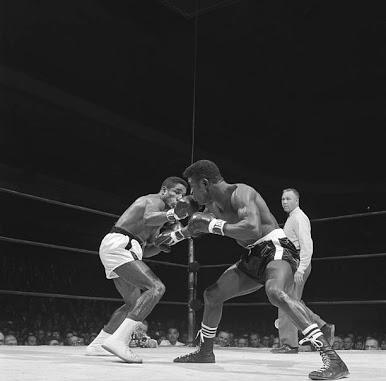 Over the next two years, Rodriguez won 14 of 15 fights, and on 21st March, 1963, he finally fought Griffith for the title in Dodger Stadium in Los Angeles before 26,142 fans.
In another close contest, Rodriguez took the unanimous decision and the championship. The rematch in the Garden two months later went down to the wire. The official decision was split in favour of Griffith, but most writers at ringside believed that Rodriguez had won.
In his fourth and final bout with Griffith, Rodriguez lost another hotly contested split decision.
When he moved up to middleweight, The Ring considered him that division's top ranked contender in 1967, second in 1968, and third in 1969.
On 22nd November, 1969, in Rome, Italy, Rodriguez went after Nino Benvenuti's world middleweight crown. Rodriguez outboxed the physically bigger Benvenuti for ten rounds, but fell to a knockout left hook in the eleventh.
Rodriguez remained a highly rated contender for the next year, but he began losing as often as he won, and he retired at the age of 34. He had won 107 fights in a successful career, which included two decision wins over rugged middleweight contender Rubin "Hurricane" Carter. "He won the fight," Carter said after their first fight. "But there ought to be a law against little men like him having arms that long."
Rodriguez also beat renowned Philadelphia hard man Benny Briscoe by decision.
He lost 13 times in his 16 years as a professional.
In retirement the affable Rodriguez trained amateur boxers for the City of Miami. He died in 1996 at the age of 59.
Check out some of his highlights below:
Note: I own no rights to this video!