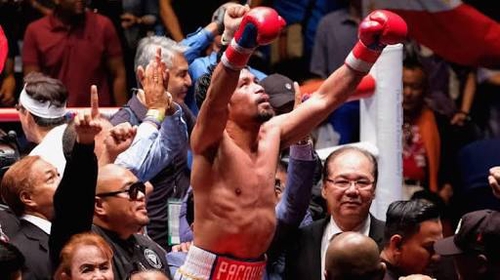 Very few boxers has had such an illustrious career as this little Filipino. From a man who could barely afford to have three decent meals to one of the richest athletes ever. The KO wins. The blazing foot and hand speed. The timing. The left hand. The way he glides in and out and side to side. His evolution from a one handed southpaw to a methodical fighting machine. The names he beat. The records he set that may never ever be broken nor duplicated. The way he bounced back from three devastating KO losses. We're lucky to witness a once in a lifetime all time great fighter willing to lay it all on the line. There's nothing to ask for. He had done more than most can.

Needless to say, the best version of Pacman is long gone. He just had a great win vs Lucas Mathysse but it is obvious that the speed isn't there anymore. The fancy footwork was absent. What pulled off a KO win that had been missing since a decade ago is he fought a perfect fight. Every move was carefully measured. Every punch was calculated. He was nowhere near aggressive as he had been 10 years ago but his ring savy and experience won him a great fight. What if Manny continues to fight though? What is the wisest fight for Manny he got a great chance of winning that will have an impact on his legacy and will generate money at the same time?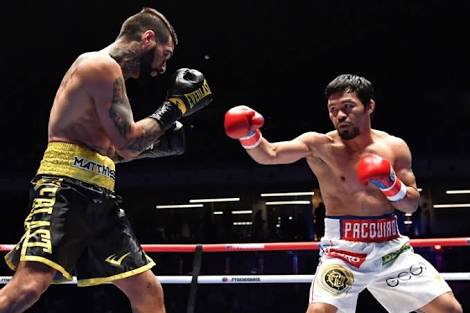 People had been counting Manny out vs guys like Errol Spence, Keith Thurman and Terrence Crawford despite the fact that none of these guys got the resume that suggests they are killing a Manny Pacquiao. I understand where these people are coming from though. We've asked too much fans. These young cats are dangerously stronger and bigger while Manny had turned significally slower. I agree Manny Pacquiao will have a hard time against these guys for obvious reasons so that leaves us two names Manny can fight.
A dance with Vasyl Lomachenko had been a loud and mouthwatering fantasy match fans had been dying to see for a while. It will definitely be an explosive fight. It can be one of the biggest matches since Golovkin vs Alvarez. The problem with this though is this maybe a no win situation for both if we take into account historical perspective. If Lomachenko wins, some people might see it as a win over a 40 year old legend he asked to cut weight, as the only possible division they can fight at is Jr Welterweight. If Manny pulls it off? The criticism might be, Manny just beat a lightweight even if they are technically of the same size.
The logical choice just might be Mikey Garcia. Young hungry lion. Undefeated and a 4-division champ who currently sits 4th at the Ring's pound for pound ranking. Mikey is a very good fighter and he presents an impressive resume but he isn't as dangerous as Crawford, Thurman and Spence. There isn't gonna be much of a size difference here too. It's a winnable match for both. If Mikey wins then its a good win. He beats a 40 year old boxer at his weight class compared to a fight vs Lomachenko who surely can only happen 140 and below.
Now if Pac wins and he does have a great chance then he adds another good champ to his already loaded resume. First, he'd be handing Mikey his first defeat. A win should automatically brings Pacquiao back in the top 10 pound for pound rankings. It would then be a good time to call it quits. Manny has cemented his legacy long ago. Whatever happens from this point, he's headed to the Hall and will be first ballot. Like how the great Bert Sugar and Emmanuel Steward said around 2009, Manny is already top 12 all time. The wins he compiled since Cotto simply elevated him even further. The 8 titles in 8 different divisions. The 5 lineal titles from 5 different classes.
The legends he beat in their prime like Marco Antonio Barrera, Juan Manuel Marquez, Erik Morales and Miguel Cotto. The win over Shane Mosley. The devastating KO win in Ricky Hatton's natural class. The wins over young cats Timothy Bradley, Brandon Rios, Chris Agieri, Jessie Vargas and his destruction of Antonio Margarito, Oscar Dela Hoya and Lehlo Ledwaba. His wins over undefeated Jorge Solis, Emmanuel Lucero, Nedal Hussein and Seun-Kon Chae. The fact that Manny beat the most champs in history when he was mostly the underdog and undersized. The fact that he along with Henry Armstrong and Bob Fitzsimmons are the only three men to ever hold three Lineal titles in 8 original divisions while he is a senator, a businessman, an actor, a singer and a basketball player and a coach. All these spell a legendary career. If Manny does choose to retire then take a rest champ. We thank you for the awesome memories.