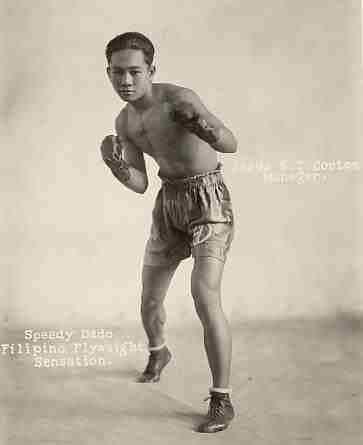 Unpopular even to his countrymen, one of Philippines' finest is 5'3 Diosdado "Speedy Dado" Posadas. He won total of 101 fights and defeated many Hall of Famers. This little badass fought from Flyweight to Featherweight. His first title attempt occurred in 1928 when he fought Hall of Famer Newsboy Brown for the World Flyweight title. Unfortunately for the Filipino, he had to pull out due to shoulder injury resulting to a loss. A win would have elevated his legacy more than he's currently rated.
Also known as "Brown Doll" he would avenge his loss against Newsboy this time for the California State Bantamweight title. Awesome win cause he just beat a man who in his career would beat Hall of Famers Baby Arizmendi, Panama Al Brown, Midget Wolgast and Frankie Genaro. He would continue his impressive run setting up a match against legendary Panama Al Brown who would retire with 132 wins. There was such a huge size difference between the two warriors. Standing at somewhere between 5'9 and 5'11, Brown towered the Filipino. Just to picture it better and see how tall Brown was, Sugar Ray Leonard, Oscar Dela Hoya, Marvin Hagler and Wilfred Benitez all stood around 5'9 to 5'11.
Speedy would come out the winner though, establishing his growing legacy further. He then would face Baby Arizmendi who beat him on points. He would avenge the loss a month later. It was an absolutely great win considering who Arizmendi would beat in his great career. Baby beat Henry Armstrong twice, knocked out Chalky Wright and defeated Freddie Miller, Newsboy Brown and Fidel Labarba. He would also draw with Sammy Angott and Lou Ambers. Remarkably all fighters mentioned are Hall of Famers. Legitimate all time great.
Speedy Dado would then face another legend in Midget Wolgast who in his career amassed a stagerring 163 wins who faced the likes of Small Montana, Henry Armstrong and Newsboy Brown to name some. The fight would sadly turn to a draw. Dado would follow this up with a win over Young Tommy for the California State Bantamweight title, claiming the belt for the second time. He would then go on to a title fight vs Baby Arizmendi for the Featherweight title but lost via decision. He would try again vs Hall of Famer Freddie Miller but he would not succeed.
Speedy Dado would go back down and fight for the California Bantamweight title and beat Joe Tei Ken only to loose it to Young Tommy. 5 months later he would reclaim the title for the 4th time against the same man he lost it to. Dado would also face fellow Filipino Small Montana in a dream match between two Filipino boxers. Dado might have seen his best days though because he would pile up defeats in the latter part of his career. Regardless of the heartbreaking losses in his title matches though, he had already cemented his place in Philippine boxing. He will always be considered one of the country's finest. This man defenitely deserves some love.