A fair while back I wrote an interesting piece on Sly Stallone's connection to my Premiership team Everton. I have been a life long Everton fan, I'm actually from Leeds (70 miles East of Everton) but followed my uncle in supporting Everton rather than Leeds. At the time that wasn't a wise choice, Leeds eventually climbed the table and made it to the Champions League where as Everton were embroiled in endless relegation scraps. Eventually it would turn around somewhat the other way much to my relief!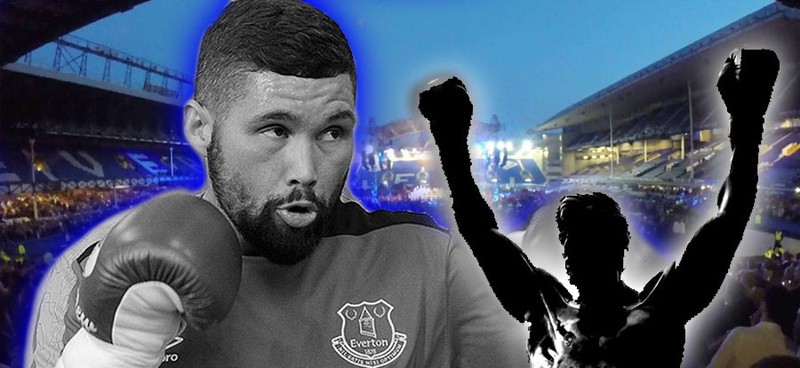 After supporting the Toffees through thick and thin it was a big surprise that over two decades later as a jaded Everton fan to see Goodison Park pop up out of nowhere in one of my all time favourite movie series - Rocky. Perhaps even more surprising was the sight of another Evertonian and real life champion boxer Tony Bellew playing the main antagonist in the 7th Rocky movie officially known as 'Creed'. Anyone wanting to learn more about the movie can do so here. This article is actually rather timely because Creed II is coming out in late November this year.
Stroke of Genius by Stallone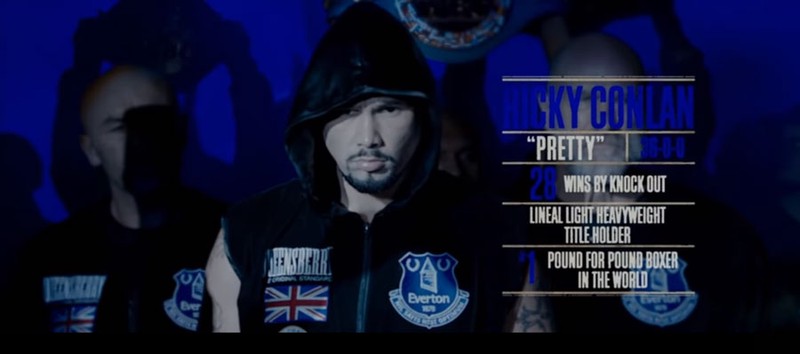 Choosing Tony Bellew to feature in the finale was a genius move by Sly Stallone as he gave the series a much more gritty and real life feel using him as the big time boxing opponent compared of the 7th movie in the series. "Pretty" Ricky Conlan as Bellew is known in the film is the main antagonist to Rocky's new fighter Adonis Creed (Apollo Creed's son). He is a welcome break from all the previous cliched opponents in the previous Rocky's such as Apollo Creed - a very showbiz like African American boxer with the wow factor, Mr T - the hard-man unforgiving type with the real tough talk and last but not least Ivan Drago - do I have to even mention what stereotype he fulfilled?
"Pretty" Ricky Conlan is a rugged working class boxer from Liverpool who is the pound for pound best boxer in the world, he even keeps the scouse accent during Creed and looks a real mean piece of work, not in a cliched cheap way but in a classic street wise bare knuckle boxer fresh off the estate way. Tony maintains his identity as a big Everton fan during the actual movie with the Everton crest embroidered on his ring entry hoodie and boxing shorts.
Casting Bellew "Pretty" Ricky Conlan in Rocky VII?
I cover this in my article on Sly Stallone's connection to Everton but in short, one of the Everton players at that time recommended him to Stallone whose agent called up Bellew. Bellew actually thought some one was having him on at the time when they called claiming to represent Stallone. The Cruiserweight champion spent three months shooting Rocky VII in Philadelphia with Sly and Michael B Jordan (plays Adonis Creed).
Watch Tony Bellew as "Pretty" Ricky Conlan Fight Adonis Creed in the Movie Finale
So we can see Tony Bellew looks a real tough cookie in Creed playing the role as the pound for pound champion of the world very well but how good is he in real life? You'll be surprised!
Bellew's Real Life Boxing Saga & Record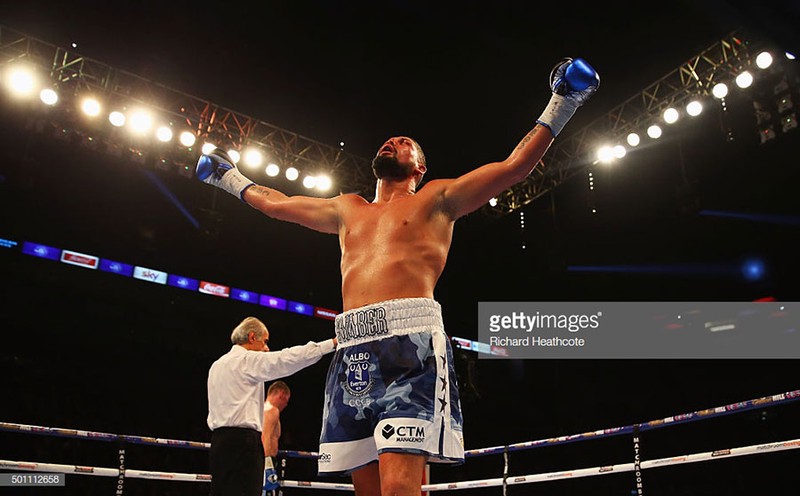 Bellew known as 'The Bomber' for his raw power has 30 wins including 20 by way of knock out to 2 losses and 1 draw. His highlights so far include holding the WBC cruiserweight title from 2016 to 2017, the British and Commonwealth light-heavyweight titles between 2010 and 2014, and the European Cruiserweight title from 2015 to 2016. Coincidentally one of his 2 losses came to a boxer by the name of Adonis Stephenson, that was 2 years prior to filming Rocky VII where he fights Adonis Creed.
Bellew's most recent fights were two against David Haye and are the only two heavy weight fights he has had and likely to ever have. He made two moves up in the weight divisions from Cruiserweight especially to fight his fellow Brit. Bellew was the complete underdog going into their first fight - if anything David Haye was the "Pretty" Ricky Conlan and Tony Bellew the Adonis Creed! So when it came to the showdown at the 02 Arena in London last year the whole boxing world was in shock when Haye's corner threw in the towel in the 11th round stopping the fight. There was more drama than just a shock win to make this match a Rocky style movie bout. Both fighters suffered major injuries throughout the bout, Bellew broke his hand in the second round and Haye injured his achilles in the sixth and was virtually hobbling around the ring. Despite Bellews broken hand he dominated the fight destroying Haye.
The fight resembled a classic Rocky style brawl at times as a desperate Haye went for the knockout knowing he wasn't going to last the full 12 with his achilles injury.
Watch Bellew Shock Haye at the 02 Arena

Bellew's power seemed to come into it's own with the step up in weight. Before losing to Bellew only one other boxer had managed to stop Haye in 12 rounds and that was way back in 2004. His only other defeat was from the gloves of Wladimir Klitschko who Haye went the full 12 rounds with.
In the second fight many of said Haye was carrying more concealed injuries and his defeat did come as a surprise. The fight was stopped by the referee in the 5th. Bellew knocking Haye down 3 times before the stoppage, dedicated the victory to his brother in law who had sadly died whilst on holiday in Mexico the previous year. He requested a ringside seat be left empty in memory of his brother and could be seen boxing in shorts with his name printed on the front.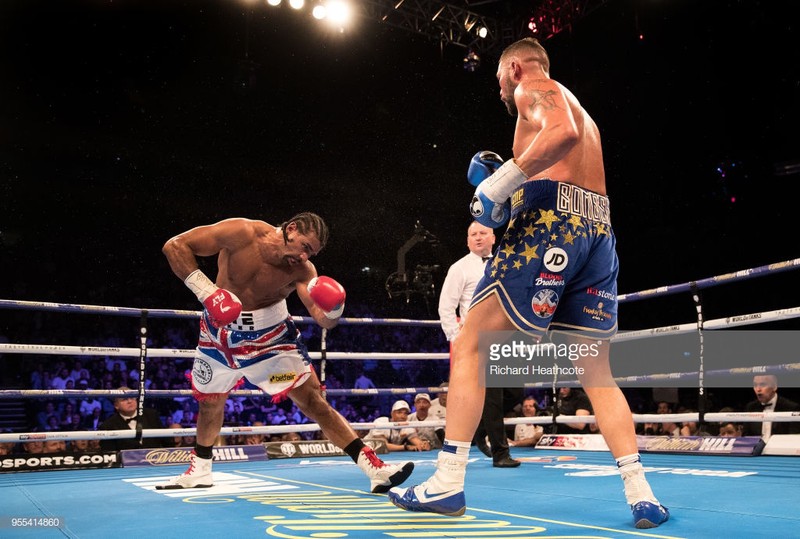 Bellew fought Haye perfectly the second time round, being patient in the first two rounds before baiting Haye in the third to go for broke and countering brilliantly knocking the former cruiser and heavy weight champion down three times.
At the end of the fight it was almost like we were watching two heavy weights re-enact Rocky and Apollo's coming together in Rocky 2 and 3 as Bellew and Haye embraced to put all their bitter words, punch ups and animosity to rest. They hugged and had only humble and respectful words for each other. Once enemies you could see they had pretty much knocked all the bitterness and petty disputes out of each other!
What Next for the Rocky Star?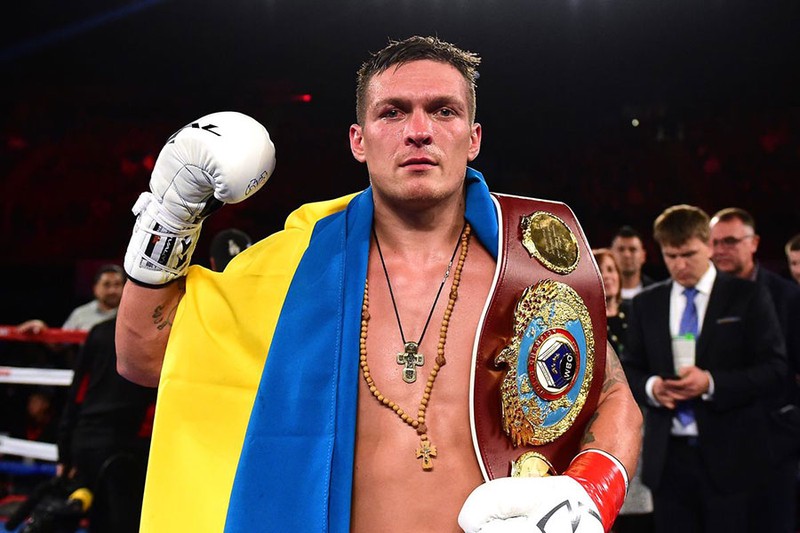 Bellew will now drop back down to his former weight to face the undisputed Cruiserweight champion Oleksandr Usyk from the Ukraine who is regarded as one of the best pound of pound boxers in the world right now. Bellew seems to have a habit of coming up against boxers that increasingly represent the real life version of his Rocky character. If you thought Haye was a somewhat insurmountable challenge for Bellew, Usyk is yet another step above him in class and will could prove a fight too far for the Evertonian.
Coincidentally the fight with Usyk will take place just three weeks before the release of the Creed 2 movie. Bellew has more than twice the fights under his belt than Usyk but Usyk is technically superior to Bellew, is undefeated and once again the Rocky Star will be up against the odds when he enters the ring in Manchester.
This will be a more fascinating fight than David Haye Take 2 as the tables turn and Bellew will be the hunter this time against Usyk, a strategic elusive opponent who possesses superb balance, footwork and quick hands that have got him the nickname of 'The Cat'.
Let's see if Bellew can produce a hat-trick of Rocky style victories within the space of 2 years. At the age of 35 he hasn't got many fights left in him and this could be the perfect way to bow out of boxing for good. It's 'the Bomber' vs 'the Cat' in November, let's see if Bellew can call upon the Rocky inside him to overcome the odds one last time!