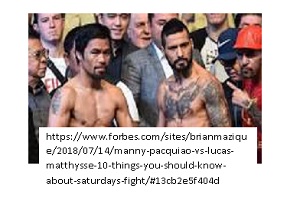 Hello lovers of boxing sport, I am healthy always.
The fight between Manny Pacquiao vs. Lucas Matthysse in Kuala Lumpur on July 14, 2018 will be fierce, Lucas Matthysse, who currently holds the WBA title, will defend his title, otherwise Manny Pacquiao will take it.
Lucas Matthysse (39-4, 36 KO) is a formidable Argentine boxer. Although only 1 time to become world champion, the name of Lucas Matthysse is no stranger to the world of boxing. Already many of the world's top formidable boxers faced and successfully defeated by Matthysse. Like, Zab Judah (Matthysse loses ground), Devon Alexander (Matthysse loses ground), Humberto Soto (Matthysse wins TKO), Ajose (Matthysse wins TKO), Mike Dallas Jr (Matthysse wins KO), Lamont Peterson (Matthysse wins TKO) Danny Garcia (Matthysse loses UD), John Molina Jr (Matthysse won KO), Ruslan Provodnikov (Matthysse won MD), Viktor Postol (Matthysse lost KO), and in his last bout Matthysse won a TKO over Titani Kiram and successfully became WBA world champion Welter Class 'Regular'.
Lucas Matthysse currently has a fight record 43 times with a notch 39 victories (36 KOs) and four defeats (1 KO).
Manny "Pacquiao (59-7-2, 38 KOs) is the boxer and the only person who can become the world's 8th division champion in boxing sport Manny Pacquiao is very experienced in boxing There are many tough enemies he defeated, such as Eric, Marco antonio Barrera, Juan Marques manuals, Miguel cotto, shane moshley, Antonio margarito, Ricky hatton, Brandon rios, Bradley, Oscar Delahoya, and many others.In 2015 pacman must be defeated at undefeated world champion Floyd Mayweather jr.Later Pacman was able to rise with beat Bradley and became world champion again after beating Jessie Vargas. But in her final bout of 2017 Pacquiao must be willing to lose the WBO belt, Welterweight after losing controversy against Australian boxer Jeff Horn.
Manny Pacquiao, has a record 68 fights with 59 wins (38 KOs), seven defeats (3 KOs), and 2 draws
weather forecast
If seen from the record match and experience in terms of Pacquiao is clearly still in front of Matthysse. When viewed from the techniques and boxing skills of both boxers are quite balanced, both boxers have their respective advantages. Pacman has the advantages of life and accuracy of a stable step, while Matthysse has an advantage on the power of the blow. But for the matter of stamina maybe Matthysse is superior to Pacquiao because of his young age, currently Pacquiao is 39 years old, while Matthysse is 35 years old.
But keep in mind, in Pacquiao's last game against Jeff Horn in 2017, Pacquiao still looks strong and agile for 12 rounds, although there is no doubt the power of a different punch with the young Pacman.
Boxing ring predicts this fight will be won by Manny Pacquiao with the figure of victory. Despite losing his age, Pacquiao can still serve Matthysse for 12 rounds. It will be an exciting and full-fledged fight. Matthysse will fight brutally and of course Pacquiao will be ready to wait for the sale and blow up the purchase.
Then how to predict Scrum lovers? who will win this fight?