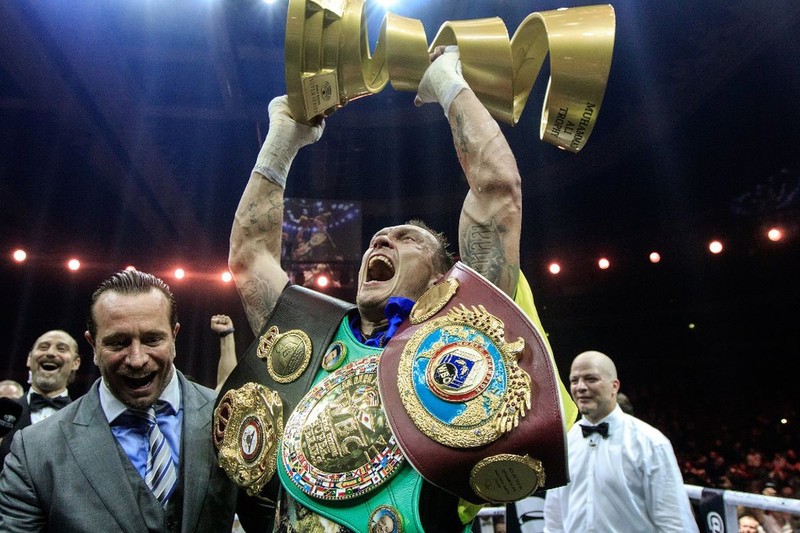 Oleksandr Usyk is coming off of a KO victory of former world champion Tony Bellew, adding to his impressive resume that warrants a P4P spot.
Usyk became the undisputed Cruiserweight champion with two of his three victories in the World Boxing Super Series. Usyk entered the tournament with the WBO title, and went on to beat Marco Huck (41-5-1, 28 KOs) in the first bout.
Usyk then defeated Mairis Briedis (24-1, 18 KOs) by a close majority decision to win the WBC belt and move on to the final of the WBSS.
Murat Gassiev (26-1, 19 KOs) awaited Usyk in the final of the WBSS for the Ali trophy, and to become What'sundisputed champion of the division. Usyk cruised to a unanimous decision to win the tournament, and become the best fighter in the Cruiserweight division.
Usyk defeated two undefeated champions in the WBSS that immediately caught the attention of the boxing community, fans, writers, and analysts.
Now adding the tough and gritty Tony Bellew to his resume, Usyk is on a special run and doesn't seem to be slowing down anytime soon.
Oleksandr Usyk can stay in the Cruiserweight division and continue to dominate, or take the challenge and move up to Heavyweight. Let's take a look at a handful of realistic opponents for Usyk's future bouts.
_______________________________________________________________________________________
Beibut Shumenov (18-2, 12 KOs)
If Usyk is to remain in the Cruiserweight division, Shumenov is the number one ranked opponent by the WBA. This would be a mandatory title defense, and add another dangerous opponent to Usyk's resume.
Andrew Tabiti (17-0,13 KOs)
Tabiti is the number one ranked opponent by the IBF, and another undefeated dangerous opponent for Usyk. Usyk would have no problem accepting to defend his titles against the division's best and this matchup would be just that.
Dillian Whyte (24-1, 17 KOs)
If Usyk wants to move up to the Heavyweight division a fight with a contender to test the waters. A fight with Whyte would be easy to make, and a great fight for both boxers.
Anthony Joshua (22-0, 21 KOs)
Outside of Joshua vs. Wilder, this would be the most enticing matchup to make in the Heavyweight division. Joshua is boxings star, and his name continues to grow in the U.S.
Usyk vs Joshua would be a puncher vs a boxer, a great style matchup.