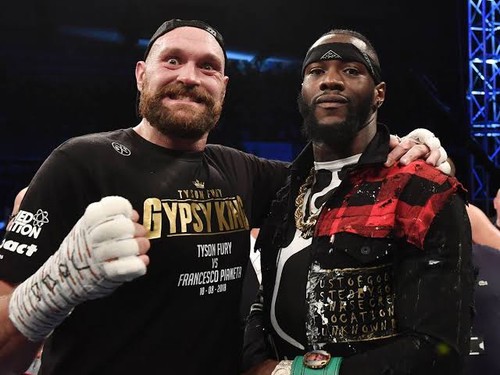 It was their third fight in just 34 months, this being only the fifth trilogy between heavyweight boxing champions in history. Others before were, Patterson–Johansson, Ali–Frazier, Ali–Norton and Bowe–Holyfield.

It was a typically battling performance by the champion as he systematically, stalked and pummeled his opposition to submission. He is known as the Gypsy King, Tyson Fury! With this victory over Deontay Wilder on Saturday night he has successfully defended his World Boxing Council's version of the heavyweight title.
Tyson Fury once again displayed that his famed psychological grit of steel. Interestingly,as per psychology, this was a man who left the sport for over two years on account of mental illness and addiction. Also on display was his almost mysterious yet elegant body movement that keeps him safe from being hit[you see some Muhammed Ali in there a lot too], his speed of thought and proper use of his body weight on his opponent weakening him gradually. I won't fail to add that he exuded the confidence of a man who knew exactly what he needed to down his opponent.
Ladies and gentlemen come with me as we try to do a review of things that happened on Saturday 9th October, 2021. The crowd of 15,820 at the T-Mobile Arena, indeed witnessed a boxing masterpiece that takes it's place amongst the best in boxing all-time history.
The first round saw Wilder(6ft 7in) trying to pull his weight and command the fight, body punches being a tool he used. Fury(6ft 9in) in return refused to be bullied and began to skilfully press forward with jabs and before the end of the round he even rattled his opponent with a firm right hand.
The second round[one which Fury promised to fell Wilder pre-match] began and Fury sustained the assault, throwing more combination of punches as Wilder began to be more on the defensive.
The third round was Fury upping his ante, using his bomber of a right hand more but swinging wildly and Fury smartly evading them. However one lunging right hand finally landed on Fury's temple, shaking him slightly, but he quickly shook that off and with a solid combination of punches he sent Wilder to the floor. The American managed to get back up before the end of the count and Fury came in for the kill with Wilder terribly struggling, it took the bell to save him.
It was a Fury with spring in his steps in the fourth round, eagerly ready to finish off things. Perhaps he was too eager, suddenly against the run of the bout even while in retreat landed that his dangerous right hand on Fury and it was the 6ft 9in down in a heap. The atmosphere was now electric in the arena. The champion seemed not too flustered in his face as he found his feet again. Wilder chased after him, amid deafening sounds now in the arena, and Fury was down again. Once again Fury got back to his feet, it was more laboured and he was perhaps helped by a delayed count owing to Wilder not quickly going to his corner. Fury thus managed to hold on for the remaining part of this round.
The fifth round came on the scene with both men looking spent. The challenger continued his attacking foray, but Fury won't budge. It was a back-and-forth action with Fury slightly edging things.
In the sixth round, it was the champion getting his nose in front with a left hand jab that staggered Wilder. Now Wilders legs were beggining to wobble his right hand punches in desperation kept missing the target. Fury will often put his his 277lb weight to good use to lean on Wilder making him weary and uncomfortable. Wilder kept throwing punches and landing few enough to at least buy some time.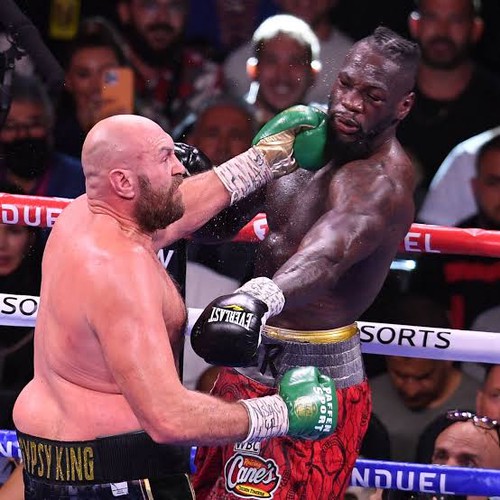 From the seventh round it was the fury of Fury, systematically decapitating his opponent. Fury chased after his opponent with sensible jabs and neat punches while Wilder,on the retreat, will often throw punches[yet ineffective] with all his might. Little wonder in the tenth round Fury sent wobbly Wilder clattering down with a heavy right hand. Kudos to some new found tenacity from Wilder, he didn't stay down, he got up and assured the referee he can continue. You need to see the crowd yelling everywhere by now. Surprisingly in improbable fashion, just as the bell was about to be rung Wilder buckled Fury with a combination of punches on the rope.
Then came along the now famous eleventh round. It was still Fury on the prowl, wearing out his opponent with a combination of all the above mentioned. He especially was moving inside Wilder, rendering Wilder's magic right hand useless[as he best uses it from range]. Fury cornered Wilder near the rope and finished him off with a chopping right hand from up high and Wilder fell like a log of wood, first on the ropes, then on to the floor. It seemed over, but Wilder summoned his very last reserve of gusto to drag himself desperately up, but hey it was indeed over– the referee rightly waved it off as Wilder appeared too dazed to continue. This time(unlike the second match against Fury) Wilder couldn't complain. He was well and truly spent, well and truly beaten by a superior boxer in the Gypsy King, who landed twice as many punches(150) as Wilder(72). Tyson Fury was also ahead on all three Judges scorecards.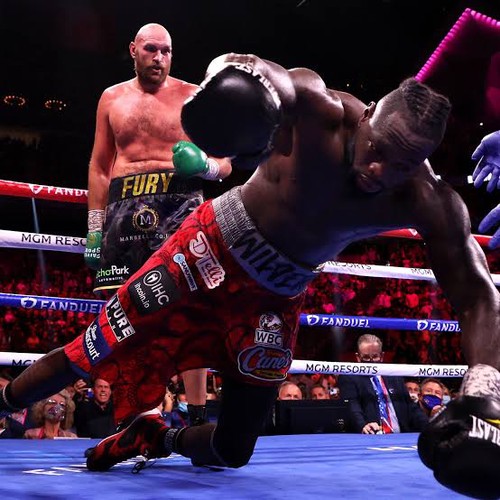 "Me and Wilder's saga is done now, done for good," Fury said. I couldn't agree more, this is as clear as crystal. Tyson Fury is just too good for Deontay Wilder.
A big congratulations to this 33-year-old from Manchester, this match being the seventh defense of the lineal heavyweight championship he won from Wladimir Klitschko almost six years ago and the first of the WBC title belt he captured from Wilder in their second fight.
Cheers