They say age is just a number, perhaps so, Manny Pacquiao certainly thinks so, the 40-year-old Filipino congressman was in scintillating form in his 70th career bout, to outbox his younger challenger, 29-year-old Adrien Broner in a unanimous decision to claim his 61st career wins and retained his WBA Welterweight title.Coming into the bout, the older Filipino weighing 146lbs was a bit lighter than his American challenger who weighed 146.5lbs, and thus, few questions were asked if the 'Pac-Man' has got enough stamina to cope with 'The-Problem' as Broner is popular called, however the Pac-Man responded emphatically, attacking Broner all the way from the start to the finish. Returning to the MGM Grand Garden Arena, Las Vegas, USA, for the 1st time since the defeat of another American, Timothy Bradley in 2016, the Pac-Man showed more than stamina.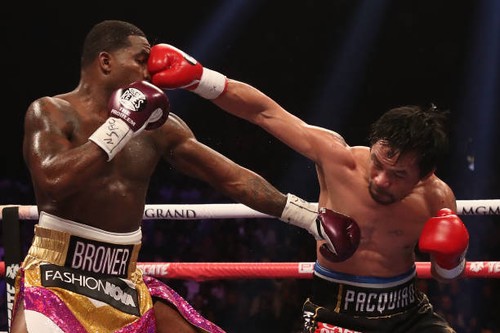 Round 1 started, and it was Pacquiao who got off with great intent, the round was pretty much of both boxers sizing each other out, Pacquiao turned on the heat from Round 2 on, showing much aggression and intensity, Broner was confined to holding and backing to the corners but did land a right-handed counter punch later on. Round 3 saw Pacquiao landed a clean left jab that got the crowd shouting. Round 4 was perhaps Broner's best round as one of his left hooks made Pacquiao retreated to the ropes. The slight shift in momentum runs into Round 5 as Broner continued to counter punch Pacquiao, while the Filipino could not found a clean shot of his own. The Pac-Man regained control and landed his 23rd body shots compared to Broner's single body shot. The crunching body shots kept coming with Broner having no answer to. Round 7 was Pacquiao's biggest round, with countless shots and jabs to Broner's head, Broner could only back up to the ropes and resorted to the head clinch, could have been knocked out in the round but was saved by the bell. Round 8 looked the closest of the rounds, with both boxers throwing counter punches at each other. Round 9 saw Broner reeling and backing into the red corner with hooks and jabs from Pacquiao. By then, Pacquiao seems to have lost his pace but not his aggression, and by this round had landed 42 body shots compared to Broner's 2. Broner seems to be comfortable with Pacquiao leading the charge, he was mistaken, he should have pushed for the knock out, it was Pacquiao that finished strongly, by the time the bell rang to end the match, a Pacquiao's win was unanimous as the judges scored in favor of Pacquiao 117-111, 116-112 and 116-112. It is now 61 wins(39 KOs), 7 losses and 2 draws for the Filipino congressman.
Manny Pacquiao had said a day earlier;
it is just a number. I have turned 40 but I still feel young and tomorrow I have something to prove, that I can still perform now at 40.
The Pac-Man said after the bout;
I really don't think my career is over,...I proved in my last fight against Lucas Matthysse and now I proved it again. The journey will still continue.
Some of Manny Pacquiao's finest moment includes;
▪2003 defeat of Marco Antonio Barrera, the victory was widely regarded as the one that announced the little known Pacquiao to the world.
▪2008 blockbuster bout against 'Golden boy' Oscar De La Hoya, the 8th round knock-out of De La Hoya was one of Pacquiao's proudest moment.
▪2009 stunning second-round knock-out of Ricky Hatton was easily the most ruthless finish of Manny Pacquiao boxings career.
▪Still, in 2009, Manny Pacquiao defeated Miguel Cotto to become the 1st boxer to score 7 world titles in 7 different weight classes.
▪2018 knock-out of Lucas Matthysse in the 7th round showed the world that the Pac-Man still got something to offer in the ring and not just in politics.
ps: All images are sourced from getty images.
Thank you all for your support.