Over the last three to four decades, sportsmen haven't always, and easily, been identified as politicians, but in recent years, the trend has gradually been changing.
In my personal opinion, I do think that sports and politics are ways apart, and both activities shouldn't be spoken of, in the same light.
And the reason is because most sporting events are shrouded in a bit of politics, for which a lot of sports enthusiast often find irritating.
But then, there are quite a few sportsmen, who have accomplished a lot in their sporting fields, and have successfully moved into politics (for reasons best known to them – I must add)
One of such persons, whom a lot of people admire (myself included) is the legendary Filipino pound-for-pound boxer, Manny Pacquiao, who turns 40 years today.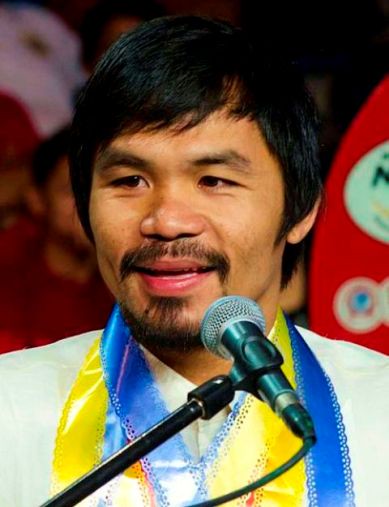 And today being the 17th of December 2018, I Remember Emmanuel Dapidran Pacquiao, a.k.a Manny Pacquaio or "the Pac-man", "the Destroyer", "the Mexicutioner"; and many other nicknames which he has been known to go by.
Manny Pacquaio is a man of many talents. Asides being known worldwide as *arguably* the best pound for pound fighter in the past two decades Pacquaio is also an accomplished in several spheres of life.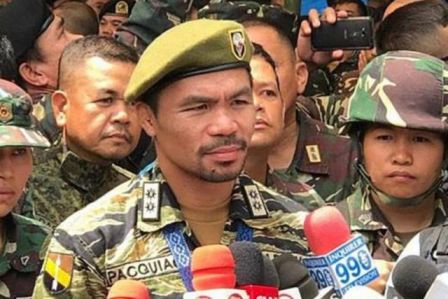 Most people may not know, but the Pac-man is a trained Soldier with the rank of a Colonel in the Philippine Army.
Pac-man is also a singer (with several albums to his credit), an actor, a TV host, a basket-baller (currently a free agent) and a top politician in his native country, where he serves as a Senator. (Phew! Talk about an all-rounder).
When it comes to his boxing exploits, Pacquaio has won several accolades, and several awards. And let's not forget the monetary aspect of his boxing career.
As recently as 2015, he was estimated by Forbes to be the second highest earning athlete on the planet earth (except maybe in planet Mars – I suppose).
His boxing records are quite phenomenal for the small-framed boxer who rose from humble beginnings to become a pacesetter in the world of boxing.
Of the initial eight boxing weight classes, the 40-year old was the first boxer ever to have won four major titles out of the initial eight – the lightweight, featherweight, welterweight and flyweight.
As of today, he remains the only eight-division champion of the world courtesy of his 11 world titles. His record still stands unchallenged.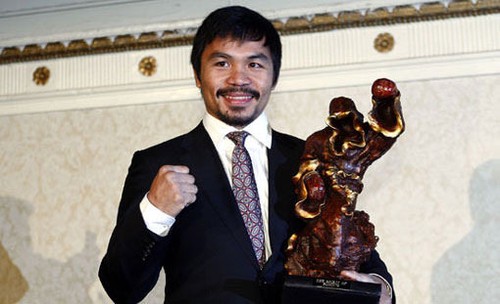 Till date, I am totally awed by how underrated Pacquaio still is, in some quarters, despite his phenomenal boxing exploits.
When it comes to lineal boxing championship, the Pacman won in five separate weight divisions, making him the first ever boxer to set that record.
Like I said, initially, Manny Pacquaio's records are seemingly endless and phenomenal. He has also received awards from sport entities such as the ESPY awards, BWAA awards, Ring Magazine, ESPN, and so many others.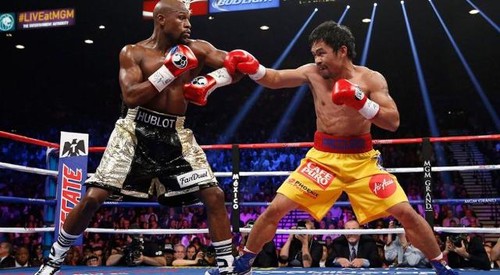 One of my favourite boxing bouts of the Pac-man, and perhaps the most iconic boxing fixture in the modern era, was his match-up against the undefeated "money-man", Floyd Mayweather Jr on 2nd May 2015.
Despite losing to Floyd Mayweather Jr. in the fixture, both fighters went home with mega bucks, courtesy of the fixture which broke several boxing financial records and pay-per-view records.
I remember watching that game, and despite the fact that I saw it as a bit of a 'laid-back' boxing match, I particularly appreciated the pomp and pleasantries the fixture generated, including the revenue generated.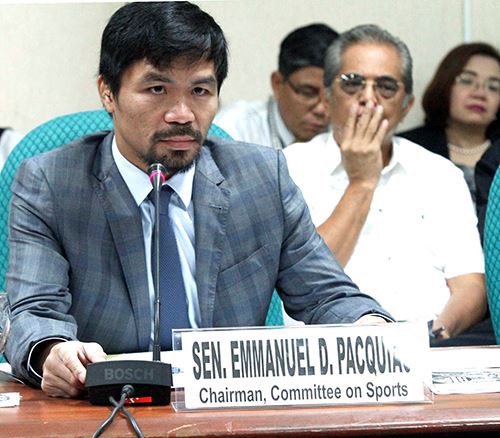 As of today, current President of the Philippines has said he would like Pacquaio to succeed him as President of the country.
With his active participation in boxing; even as the current WBA welterweight champ of the world; Manny is still very active in his country's political scene.
Only time will tell, when the Pac-man will call it quits from the sporting world of boxing and basketball which he still actively participates in.
---
What do you think of the career of 40-year old Manny Pacquaio a.k.a the Pac-man?