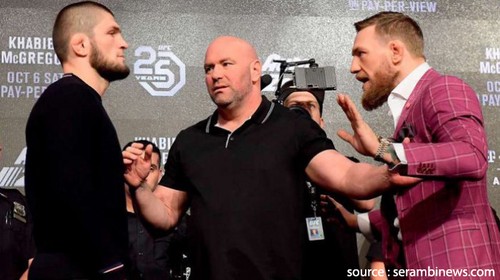 The match between Conor McGregor against Khabib Nurmagomedov in UFC 229 which ended in chaos is now entering a new stage.
Conor McGregor vs Khabib Nurmagomedov's match which was held at the T-Mobile Arena, Las Vegas, USA got the spotlight.
This is not separated from the behavior of the two fighters who incised black ink in the UFC 229 match Conor McGregor vs. Khabib Nurmagomedov.
At present, the UFC has made a decision related to the riots.
Reported BolaSport.com from Mirror.co.uk, Conor McGregor has been sanctioned by the UFC in the form of a suspension.
McGregor was suspended from being allowed to take part in a UFC match for one month following his actions and teammates.
The match ended with Nurmagomedov's victory after McGregor tapped out as a sign of surrender in the fourth round because he could not escape Nurmagomedov's strangulation.
After the game ended, there was a commotion which involved both fighters and teammates outside the octagon.
Some sources said the uproar was due to religious and political issues which were alluded to in teammate McGregor's mockery.
Although McGregor requested a repeat duel, the UFC had another opinion, namely by giving him a suspension.
This article has been published on Tribunnews.com with the title Request Duel Against Against Nurmagomedov, the Conor McGregor Receives Sanctions from the UFC
source : serambinews.com