There are many people who choose the path of being a boxer even how harsh and hard the profession is. Some may have a successful career in boxing and some will just end up stopping after they end up losing in a boxing match. As a fan also of Filipino Amateur Boxing, I have witnessed the struggle of many Filipino fighters during their initial steps towards their dreams. Some are crushed by their opponents which lead them to decide on stopping their career and some serve that as a challenge.
During the process, only a few talented boxers have the chance of being promoted to their fame which given them chances to fight with several boxers. But still, it doesn't mean that if you have a successful career in boxing, you will end up successful too in life.
Rolando Navarrete who is a famous boxer during his prime around the 80s holds World Super Featherweight. He was recognized as a hard hitter puncher in addition of being a good talent boxer.

Rolando Navarrete's Rise
Ronaldo who was a talented boxer really perform a good record on his fights in General Santos where he lost only once against Filipino fighter Roberto Cinco in 10 rounds of boxing which resulted in a Majority Decision in favor to Roberto Cinco.
That loss didn't discourage him, instead, that experience serves as a lesson for him to continue his journey and dedicate himself towards quality boxing. After around three months after his loss, he then put a comeback match against fellow Filipino fighter Willie Abenir which he won in Unanimous Decision. After that he manages to have a streak wins, giving him a good record of 15 wins, 1 loss, and 2 draws.
But those winning streak was cut off by fellow Filipino boxer Fernando Cabanela. The road for Rolando is never easy where he experiencing successive defeats which he ended up in TKO. It does not halt him to continue, instead, he put more effort into improving himself. This time, his winning streak leads him to challenge for a World super featherweight title against Alexis Argüello of Nicaragua but he lost to that attempt.
After several attempts on acquiring a championship title, he manages to grab it for the very first time against Johnny Sato, which is also a Filipino. That fight he won NABF World Super Featherweight Title and still continue until he got WBC World super featherweight title. He was able to defend that title but sadly he lost the belt against Rafael Limón of Mexico.
He retires with a record of 74 total fights with 56 wins,15 loss, and 3 draws.
Rolando Navarrete's Fall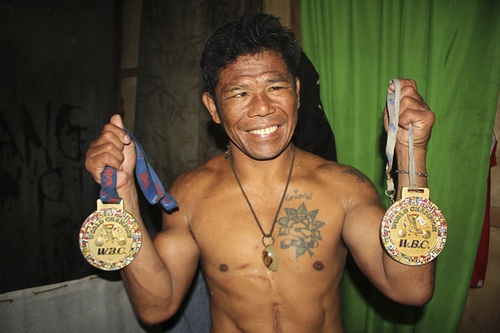 Sometimes proper management of a boxer's winnings is necessary so that when the time they would retire they have the capacity to enjoy life with their money. But it was different for Rolando where mismanagement of his wealth ended him up to nothing. He was even sentenced in jail for his committed crimes.
There had been too much bad luck for Rolando after he manages to get out from jail. Where there is a recorded incident where he got stabbed with an ice pick and even hit by a steel pipe by a neighbor.
Right now, Ronaldo continues his life selling fish but still continue his training internally in boxing.
Manny Pacquiao and other boxing champions still respect and honored him as a talented boxer and a former boxing champion.