Hello! Friends,
The press conference scheduled for Anthony Joshua and Andy Ruiz Jr has brought them together physically since last June they both see each other. This is organized ahead of the rematch, which will happen in Saudi Arabia with the expectation on the Joshua side to claim his 3 title belts back from Andy.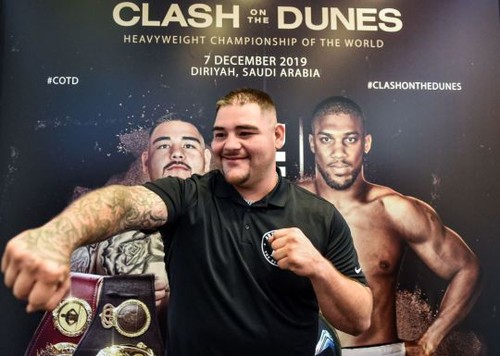 The press conference was a long one, but left the two heavyweights to only speak for a few minutes to each other. As I mentioned, it was the first time both heavyweights will meet face to face after the June fight the led to the defeat of Joshua at Madison Square.
The meeting with eyes contact on Ruiz with Joshua and psychologically it's all about letting the fight begins and let me claim back my title, that is what I can figure out from the Joshua mind as he made eye contact with the destroyer. As the action continued, Ruiz Jr did not really fear the British star as he shifted his focus on him many times. With the strong face Joshua carried from the beginning of the conference, he ended it with a smiling face coupled with a joke as he speaks to Ruiz on the stage. Although he was subdued, he made a declaration with the boldness that Ruiz reign as a champion will be for just a short-term and December 7 will be the litmus test to prove this statement.
Since 2016, Joshua has become a challenger for the first time in the history of boxing and its more like renewer of fight hunger locked inside of Joshua Anthony in which Ruiz Jr (destroyer) also claimed. Ruiz Jr made mention of his preparation to still reclaim the belts comes December 7 despite the fact that Joshua is very hungry for it. He said, his champion reign must last long. He also claimed that, just like how it happened on June 1, he will repeat the same victory in Saudi Arabia.
The two heavyweights now proceeded to New York for another conference scheduled for Thursday which will close on Friday in London.