Hello! Friends,
Here comes again the huge preparation for the AJ and Ruiz. As the preparation is getting closer I begin to think the fight will be bloody because AJ is really hungry to win back his belt. Eddie Hearn, who is a promoter mentioned that AJ lost it in June due to lack of focus on the fight.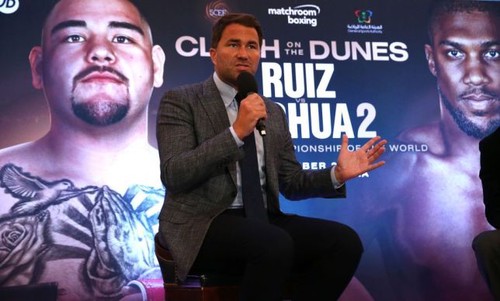 Remembered the fight ended in the seventh round as Ruiz claimed Joshua WBA, IBF, WBO, and IBO titles and this is what AJ is crazy about now. He was thinking about how to claim Wilder belt and not ready to stay focused on Ruiz and the end result was for him to lose his titles. When you are in the ring, one of the features that fighters do use is a focus and never allow your mind to be divided.
The rematch is in 4 months from now in Saudi Arabia and this is huge. Joshua still focuses on Deontay Wilder belt, but he needs to stay focused and claim back his title from the Destroyer (Ruiz). I feel AJ has learned from his mistake and the tough AJ will know is back. According to Hearn, the belief is, the former WBC will knock down Ruiz because he's very much hungry at the moment. He mentioned that Joshua had no feeling of knocking Ruiz last time following the fact that his mind was on Wilder.
After Joshua loses his title in June, the two fighters had no reason to meet, but come next week, the two will meet for the first time as they prepare for the rematch promotion in Riyadh (New York). The promotion is in line with the press conference scheduled for next week Wednesday to Friday and this will be huge. Watch out for the conference.
What Do You Think About This Rematch?