Hello! Friends,
It was not an impressive fight as Fury Tyson defend his unbeaten in a fight between him and Otto Wallin on Saturday night declared Deontay. It was really a unanimous decision victory claimed by Fury in Las Vegas as he suffered two cuts in the third round which made it to be the worst.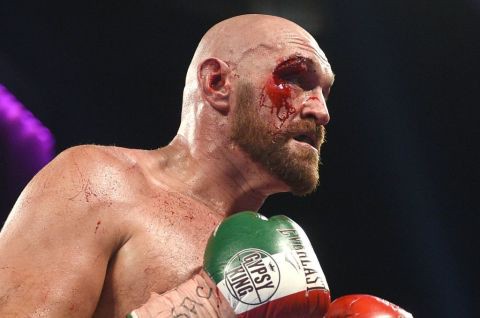 Otto Wallin came with determination to end Fury history last Saturday night as he continued aiming at the wound and made Fury surrender, the fight was not waved off due to the intervention of doctor who inspected the cut and Fury keep on fighting in other to keep his record. Although tge wound on Gypsy king was so severe which needs him to work upon as he's planning to have rematch with Deontay. It was discovered that Otto really hit him hard as it was recorded that Fury has up to 47 stitches on his face. Gypsy King also confirmed that the stitches are over 40, but despite all this, its never weigh him down on his pursuit to defend his unbeaten record. He mentioned, its part of fight if you pick injury during the fight, it is your ability to continue that determine your stability.
Fury victory has opened him to a fight against Deontay in February 2020. Gypsy King needs to start working on himself, though he claimed to be alright,and claimed Hes ready for war, but he needs to work on his wound and be ready before February 2020. Although, there are some speculations that Fury might not be able to take Deontay by February just because of his injury but Warren his promote confirmed Fury will be ready before February. The outcome of Otto and Fury match makes Deontay send a warning note to him against the rematch.
It was a great fight, Otto tired but Fury Tyson still maintain his unbeaten record. BRAVO!