Hello! Friends,
It was really an interesting game in on the ring after Cassius Chaney finished Joel Caudle with a rush like 10 minutes into the game. The game occurred last Friday and it was a really brutal match that was decided in the first round when the referee had to stop the fight. Cassius Chaney is an American heavyweight and has a record of no defeats in 16 wins and only used just 3 minutes to knock down Joel Caudle. I will show you the game shortly after this short piece.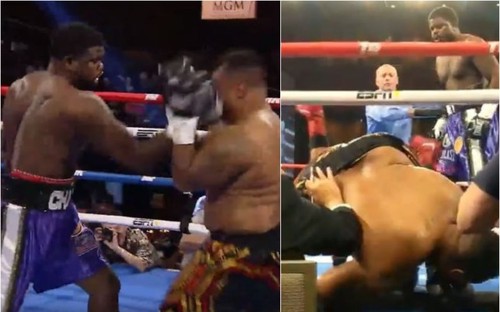 The game started on the National Harbor in Maryland with a rush of a blow from Cassius and this blow was too powerful to the point of sending out Joel out of the ring with the uppercut Chaney releases on his head. This game was scheduled for 8 rounds, but the fight ended 3 minutes in the first round. You can imagine what's wrong or what happened. The game still baffled me how one single uppercut sent Joel out of the ring by flying through the rope. With this flying, Joel still summoned the courage to enter back into the ring for continuity and the moment Joel entered referer beckon to him if he can continue and when the referer checked him the game continued. It was like Cassius was waiting for him as he hunted down Caudle and the referee sensational that he can't continue and just in 10 seconds, the referee ended the fight.
Have a look at the video below!