Today in Sports History continued
So I started this series orginally on Steemit nearly 2 years ago and re-introduced it here when I started on Scorum - it is hard to do that daily so I just focus on important ones. Hope @brandonk is not killing me for that story. It is a boxing historic even as well as a media highlight. Today 85 years ago - on August 23, 1933 - the first boxing fight was broadcasted on TV from the UK.
Archie Sexton & Laurie Raiteri in London
During this historic event Archie Sexton was pitted against Laurie Raiteri in a six-round fight. Sexton started as a featherweight fighter and sadly had to retire from boxing after losing sight in his eye following a middleweight fight. Laurie Raiteri also starteds his career 1925 as middle weight fighter - there is not a lot more I could find out in my research apart from people selling post cards with photos of him via eBay.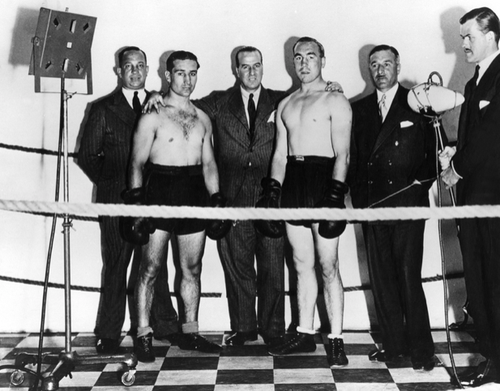 Usually my sports history posts are quite long - this one is really short - however! One have to find out more or be creative, right Scorumians!?
BUT...... I am not linking this now to the business meaning that was the result by this first TV fight - I am also not discussing the value of the fight itself for the boxing sport or any industry - this is something I am sure @brandonk and other fighting experts can contribute and evaluate much better.
Read On - The boxer stats
There is an awesome site of statistics on the fighting area called "boxrec.com" where you can find a lot information on various fighters (present and past) - so let us check the different deatils of the two opponents from this historic fight back in 1933.