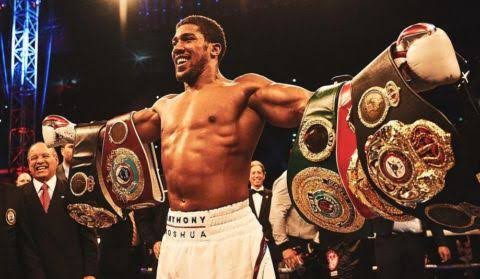 What could have been the cause for the New month, June 1st defeat? The world of boxing was wowed and mesmerised on the new month defeat of our Undisputed Champion Anthony Joshua.
This is a happy moan day contest organised by Pete. If you are not actually participating, you are really missing the fun of blogging on scorum. Get yourself a life........Hahaha.
The Nigerian(Yourba) born Britain's heavyweight star ruined his perfect career toll/unbeaten record as he suffered a shocking knockout defeat to Ruiz Jr in the seventh round losing his world titles in his United States debut at The Madison Square Garden in New York.........SAD😥😢. Ruiz who is 29 years and a native of southern California became the first boxer of Mexican descent to win a heavyweight title as he captured Joshua's IBF, WBA and WBO titles with excessive force and heart. The upset was arguably the biggest within the division since Hasim Rahman stopped Lennox Lewis in 2001 and brought back memories of James "Buster" Douglas' 1990 win over Mike Tyson. The massive upset victory at Madison mad history for the Mexican as he still couldn't believe the feat he just accomplished. The first heavyweight champion of Mexican descent...... Wow!!!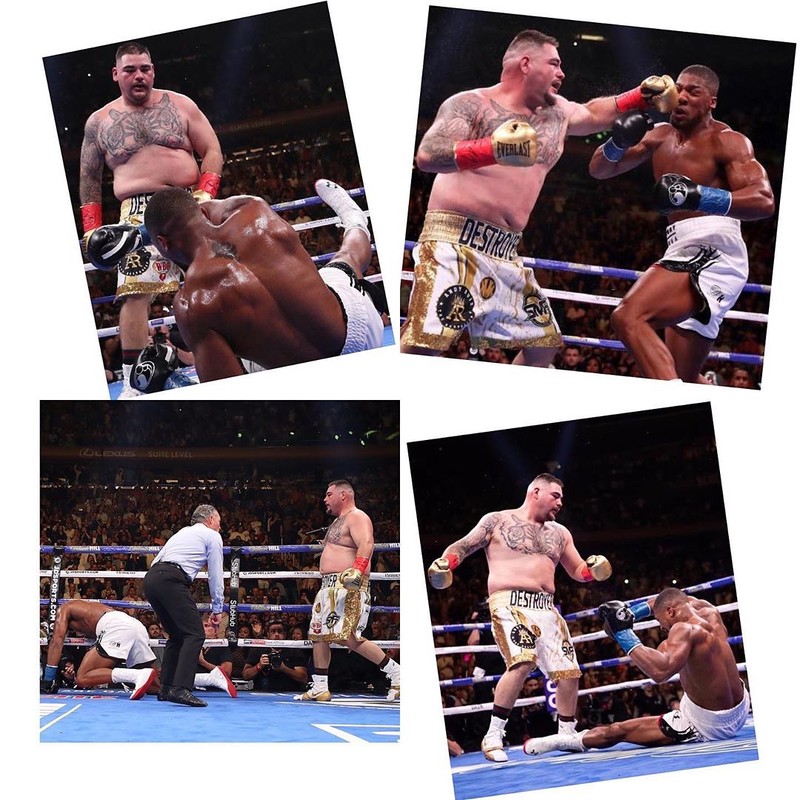 AJ actually dropped Ruiz for the first time in the American's career in Round three just before everything backfired with sports biggest star globally received a pair of shocking knockdowns too. He didn't quite recover from those. The fight became uncertain although Ruiz began to do a better job getting inside Joshua's eight inches reach advantage as it became clear AJ wasn't fully recovered from the earlier knockdowns. It was randomly clear that both fighters were already exhausted before the round seven but Ruiz still dominated as he hurts Joshua again in Round 7 and starts to batter him with short power shots to set up a pair of knockdowns. Griffin presented Joshua with every opportunity to continue but after AJ turned his back and walked toward the corner. Griffin had to jump in at 1:27 to wave off as AJ was still weary😩 on his feet.
Local Rumours have it that Anthony Joshua popularly called AJ must have purposely let the Mexican win him to avoid Wilder getting hold of all four world champions belt if he losses to him. Deontay Wilder's agent has requested AJ to place all belts at stake while his client will have only his WBC at stake. However, AJ's agent was still considering the offer of a superfight unification showdown with WBC champion Deontay Wilder just before Ruiz interrupted with a win that left sold-out crowds, which was largely in favor of Joshua, stunned and silent following the stoppage in the seventh round.
AJ apologised to his fans and engaged everyone not to drown in there sorrows for that night wasn't his but his opponent's. Its gets people watching and its good for the TV, he added. There was a rematch clause proposal to happen in U.K by November or December and both men acknowledged to it.
Tweets related to the match piled up and the first among was Wilder Deotney who said AJ's career is full of consistent lies, contradictions and gifts. He added that he is not a true champion and now we can justify who has been avoiding who. #Thats harsh from Wilder I must confess. Common bruv..... That dude just had his ass kicked back to the U.K. Show some respect, its rivalry not war man........😬
Fury was less critical, tweeting "We have our back and Forth's but @anthonyfjoshua changed his stars through life, heavyweight boxing. These things happen, rest up, recover, regroup and come again."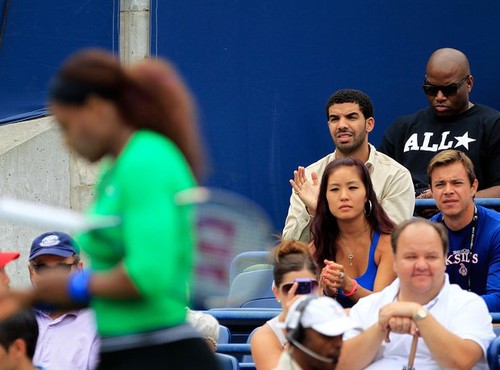 Another Propaganda has it about Drake's Curse. We all know the popular hip hop rapper who in his own taste, may love sports. His meetings with sportsmen/women has actually erupted a non scientific suggestion of these individuals losing when they take a picture with the hip hop singer. It all started with Serena williams who lost at the U.S. Open in 2015. It was rumoured that the two were dating and fans blame Drake for the upsetting loss because he showed up for her match.
Other notable individuals and teams followed up in the queue waiting for their moment, they include: Toronto Maple Leafs, Alabama (FB), Texas A&M (FB), LA Rams, TB Lightning, Tennessee (MBB), Michigan St. (MBB), Conor McGregor lost to Khabib, Sergio Aguero missed a penalty in the Champions League vs Spurs, Kentucky Wildcats no final. Will AJ really grow an excuse behind this supposed superstitious believe?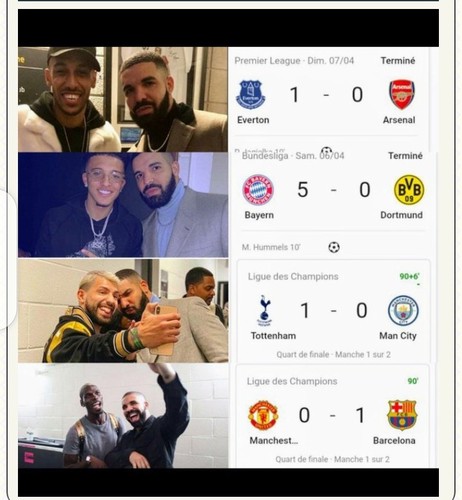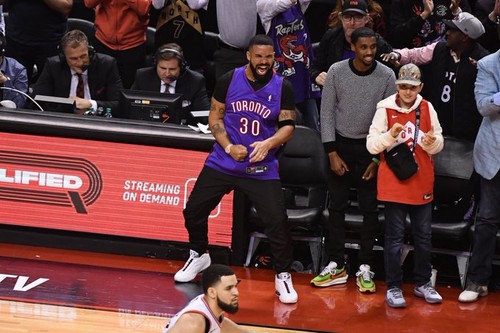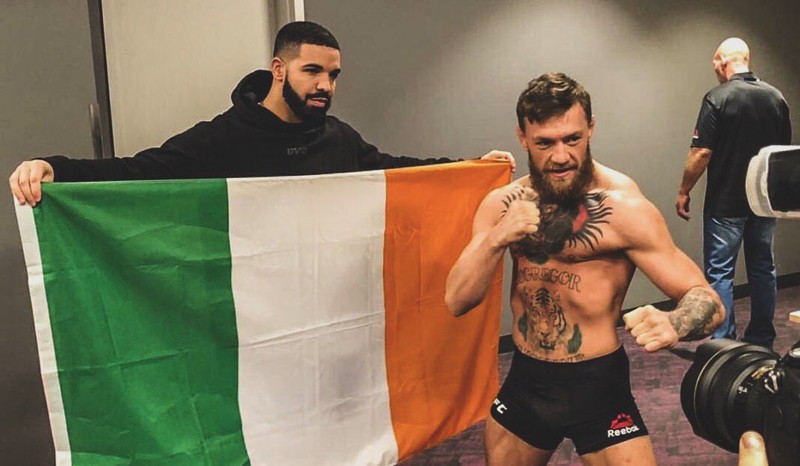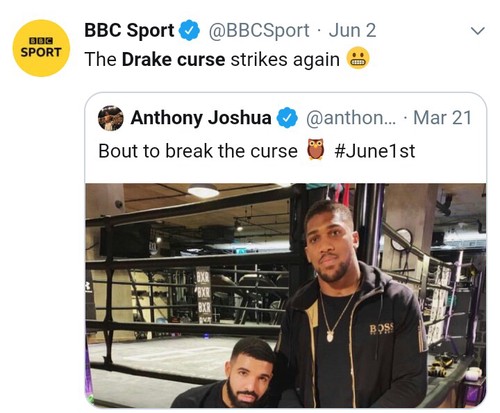 Abdo asked Ruiz in an interview if he'd accept such an offer for the artist to visit him during training camp. The boxer stated, "Yeah I wouldn't mind meeting him. I'm a huge fan of his music and I'm not superstitious like that, He bluntly stated."
Meme photos about Drake been the cause of other notable disasters like The Titanic ship sinking in 1912, The fall of the Spartans, The killing of Stark's house hold in Game Of Thrones, The loss Avengers encountered against Thanos in the Avengers Infinity War and other funny chats.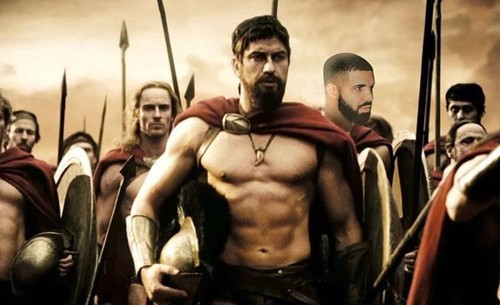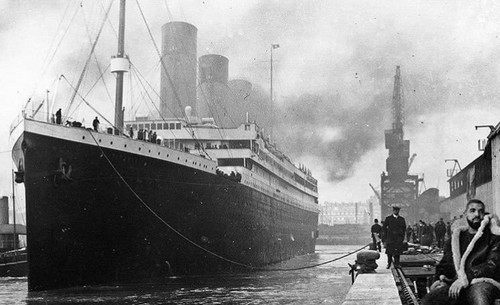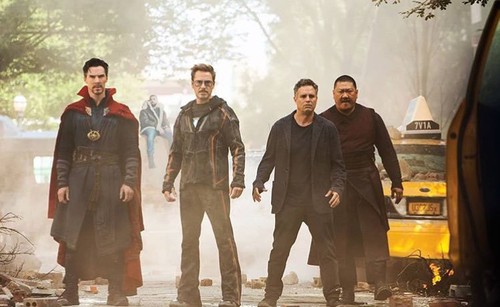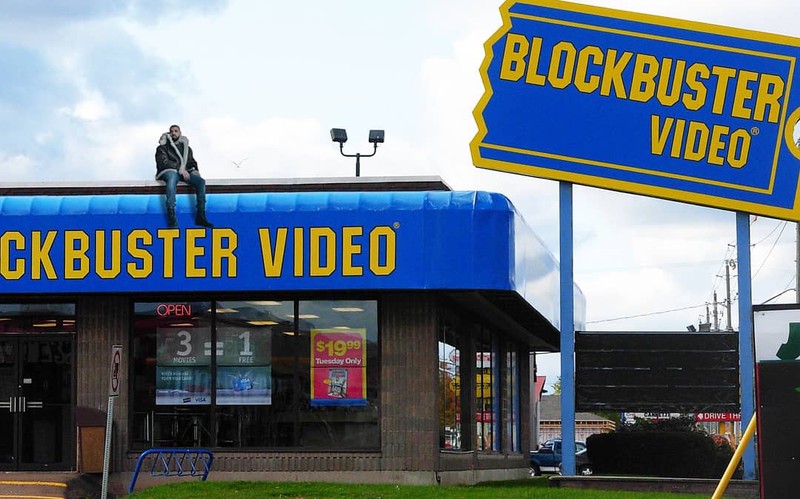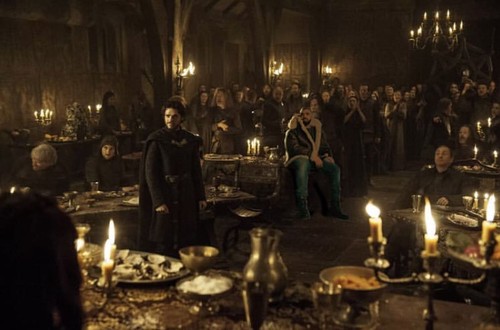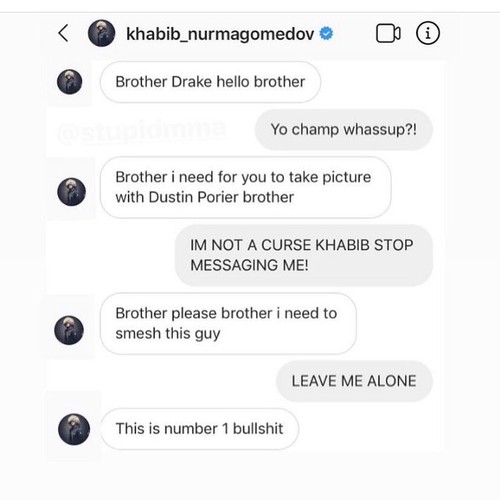 Word Of Encouragement
We go down weak and rise up stronger. Life is to be lived, not controlled; and humanity is won by continuing to play in face of certain defeat - Ralph Ellison, Invisible Man
Thanks For Reading...