This was unexpected... or was it?
Well, yes it was. We all expected AJ to win this, and that's taking nothing away from Ruiz pre fight. AJ was the champ, you expect them to win! that's why we are all so shocked and stunned!
Ruiz came as a late replacement after Big Baby Miller failed multiple drug tests. Now, I actually think Ruiz is a much tougher fight than Miller.
The Fight
The first couple of rounds were quite slow, Joshua landing some decent jabs and Ruiz firing off very fast counters, and AJ winning the first 2. I will add Joshua looked HUGE. I mean huge. Ruiz has like 20lbs on him, but Joshua really has serious muscle packed onto his massive frame. Joshua landing some nice jabs and a few hard hooks.
Anyway, round 3! What a round! AJ clips Ruiz with a lovely uppercut and sharp left hook! Ruiz goes down! AJ is looking for the finish and swarms Ruiz, getting close and firing short shots in the pocket! Both men fire away and AJ gets caught by a flurry! AJ is down! He looks clear eyed and gets back up. Ruiz swarms him and knocks him down again! AJ is seriously hurt and the bell rings! Saved by the bell!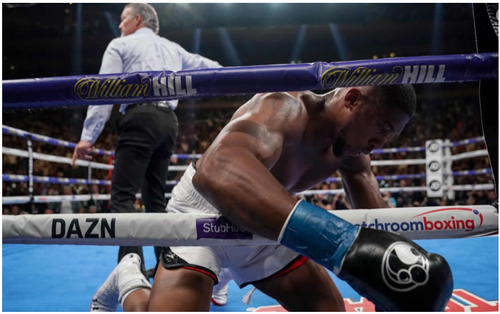 Round 4 starts and Ruiz comes out swinging! The pace slows and AJ sort of regains some control. Through 5 and 6 he does begin to look a little tired, and Ruiz looks like he might be hurting him with some hard shots landing. Is AJ gassed out? Maybe he is still dazed. Ruiz digging in - could be anyone's game here.
Round 7 - RUIZ FINISHISHES JOSHUA! WOW! AJ gets knocked down and looks tired and hurt. He get's up and Ruiz puts him down again. AJ spits out his mouth guard and turns his back to the referee and walks to his corner. The ref waves off the fight and AJ looks surprised, but he knew.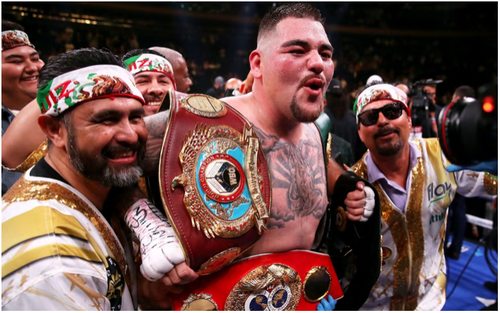 Ruiz is the new and first ever Mexican heavyweight champion!
The Future
Let's be honest, we all wanted to see the big 3 go at it. We want Joshua vs Wilder vs Fury and for these 3 to take over heavyweight boxing, all fighting each other and 1 man unifying the titles. Well, it wont happen just yet.
Firstly, Ruiz and AJ will have a rematch, maybe around November or December time. There was a rematch clause in the contract.
Do you think AJ can beat Ruiz?
I feel he can in the rematch, and if he does then it will be on with Wilder or Fury. To add - Wilder and Fury both have fights coming up - they could both lose too!
AJ is a superstar, and maybe all of these Lucozade sport advert etc are taking away from his boxing training. I didn't think he looked as sharp as he has in the past. I know some people think AJ is over hyped, but no one can deny his great performances. He did not have one today.
Promoters
This is what I hate about boxing and promoters. Sure, AJ "wasn't ready" for Wilder of Fury, but now they might have ruined us a chance of seeing that. AJ v Wilder should have happened, then at least one man would have unified the division. Again, I am taking nothing away from Ruiz, but these unexpected things ruin the potential fights the fans truly want!
What are your thoughts? Let me know, fight fans!