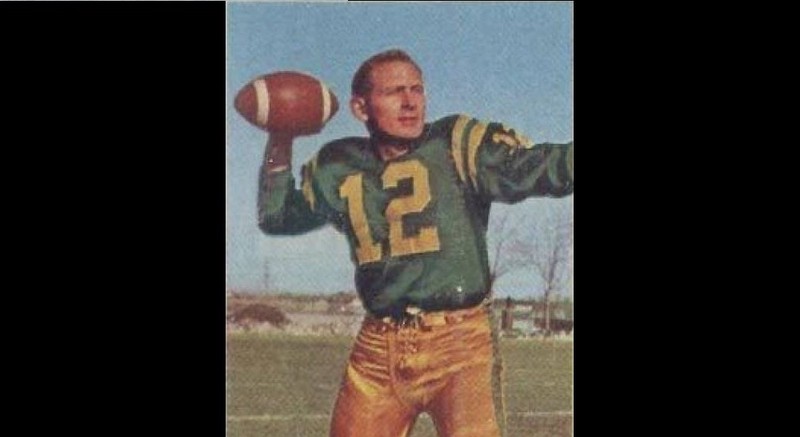 By Zane Miller
In the first five seasons of the Canadian Football League, the Winnipeg Blue Bombers won the Grey Cup in four out of the five years with back-to-back wins from 1958-59 and 1961-62. The only other team to win during this span were the Ottawa Rough Riders, winning it in 1960.
The Hamilton Tiger-Cats were Grey Cup runner-ups in four of the five seasons as well, losing to the Blue Bombers in each of their Grey Cup appearances from 1958-59 and 1961-62, while the Edmonton Eskimos (now Edmonton Football Team) were the only other finalist with their loss to the Rough Riders in 1960.
The player taking home the most Most Outstanding Player Awards during this span was Eskimos quarterback Jackie Parker, who won the award in 1958 and 1960 with a combined 14 passing touchdowns and 3,521 passing yards in those two seasons.
1958 MVP: Jackie Parker (Edmonton Eskimos, QB)- 8 TD & 1,908 yds passing
1959 MVP: Johnny Bright (Edmonton Eskimos, RB)- 8 TD & 1,340 yds rushing
1960 MVP: Jackie Parker (Edmonton Eskimos, QB)- 6 TD & 1,613 yds passing
1961 MVP: Bernie Faloney (Hamilton Tiger-Cats, QB)- 23 TD & 2,565 yds passing
1962 MVP: George Dixon (Montreal Alouettes, RB)- 11 TD & 1,520 yds rushing
1958 best record: Winnipeg Blue Bombers (13-3) Worst record: BC Lions (3-13)
1959 best record: Winnipeg Blue Bombers (12-4) Worst record: Saskatchewan Roughriders (1-15)
1960 best record: Winnipeg Blue Bombers (14-2) Worst record: Saskatchewan Roughriders (2-12)
1961 best record: Winnipeg Blue Bombers (13-3) Worst record: BC Lions (1-13-2)
1962 best record: Winnipeg Blue Bombers (11-5) Worst record: Toronto Argonauts (4-10)
1958 playoffs
Out in first round: Montreal Alouettes (L 26-12 to Rough Riders), Saskatchewan Roughriders (L 27-11 & 31-1 to Eskimos)
Out in second round: Ottawa Rough Riders (L 35-7 & 19-7 to Rough Riders), Edmonton Eskimos (L 30-7, W 30-7 & L 23-7 to Blue Bombers)
1959 playoffs
Out in first round: Montreal Alouettes (L 43-0 to Rough Riders), BC Lions (L 20-8 & 41-7 to Eskimos)
Out in second round: Ottawa Rough Riders (W 17-5 & L 21-7 to Tiger-Cats), Edmonton Eskimos (L 19-11 & 16-8 to Blue Bombers)
1960 playoffs
Out in first round: Calgary Stampeders (L 30-7 & 40-21 to Eskimos), Montreal Alouettes (L 30-14 to Rough Riders)
Out in second round: Winnipeg Blue Bombers (W 22-16, L 10-5 & L 4-2 to Eskimos), Toronto Argonauts (L 33-21 & 21-20 to Rough Riders)
1961 playoffs
Out in first round: Ottawa Rough Riders (L 43-19 to Argonauts), Edmonton Eskimos (L 10-8 & W 18-17 to Stampeders)
Out in second round: Toronto Argonauts (W 25-7 & L 48-2 to Tiger-Cats), Calgary Stampeders (L 14-1 & 43-14 to Blue Bombers)
1962 playoffs
Out in first round: Ottawa Rough Riders (L 18-7 to Alouettes), Saskatchewan Roughriders (L 25-0 & 18-7 to Stampeders)
Out in second round: Calgary Stampeders (W 20-14, L 19-11 & 12-7 to Blue Bombers), Montreal Alouettes (L 28-17 & 30-21 to Tiger-Cats)
Grey Cup results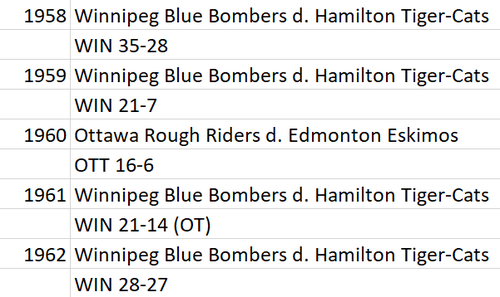 Link to stats database: https://www.cflapedia.com/Years/1958details.html through https://www.cflapedia.com/Years/1962details.html
Follow me on Twitter: https://twitter.com/Zmiller_82