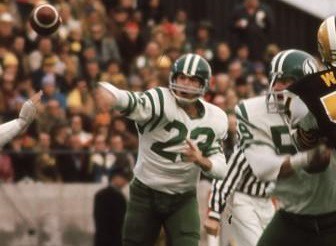 By Zane Miller
In seasons 16 through 20 of the Canadian Football League, the Ottawa Rough Riders and Montreal Alouettes each won the Grey Cup twice, with the Rough Riders winning in 1973 and 1976, while the Alouettes won it in 1974 and 1977. The Edmonton Eskimos (now Edmonton Football Team) won the championship once in 1975.
The Eskimos were also runners-up in the Grey Cup three times in these five years; coming up short in 1973, 1974 and 1977. Meanwhile the Alouettes fell in the Cup in 1975, as did the Saskatchewan Roughriders in 1976.
Five different players earned the Most Outstanding Player Award during this span, with Roughriders quarterback Ron Lancaster as the only repeat winner as he had previously won the honor in the 1970 season.
1973 MVP: George McGowan (Edmonton Eskimos, WR)- 9 TD & 1,123 yds receiving
1974 MVP: Tom Wilkinson (Edmonton Eskimos, QB)- 13 TD & 2,169 yds passing
1975 MVP: Willie Burden (Calgary Stampeders, RB)- 10 TD & 1,896 yds rushing
1976 MVP: Ron Lancaster (Saskatchewan Roughriders, QB)- 25 TD & 3,869 yds passing
1977 MVP: Jimmy Edwards (Hamilton Tiger-Cats, RB)- 6 TD & 1,561 yds rushing
1973 best record: Edmonton Eskimos (9-5-2, .643) Worst record: Winnipeg Blue Bombers (4-11-1, .267)
1974 best record: Edmonton Eskimos (10-5-1, .667) Worst record: Calgary Stampeders (6-10, .375)
1975 best record: Edmonton Eskimos (12-4, .750) Worst record: Toronto Argonauts (5-10-1, .333)
1976 best record: Saskatchewan Roughriders (11-5, .688) Worst record: Calgary Stampeders (2-12-2, .143)
1977 best record: Montreal Alouettes (11-5, .688) Worst record: Calgary Stampeders (4-12, .250)
1973 playoffs
Out in first round: Toronto Argonauts (L 32-10 (OT) to Alouettes), BC Lions (L 33-13 to Roughriders)
Out in second round: Saskatchewan Roughriders (L 25-23 to Eskimos), Montreal Alouettes (L 23-14 to Rough Riders)
1974 playoffs
Out in first round: Hamilton Tiger-Cats (L 21-19 to Rough Riders), BC Lions (L 24-14 to Roughriders)
Out in second round: Saskatchewan Roughriders (L 31-27 to Eskimos), Ottawa Rough Riders (L 14-4 to Alouettes)
1975 playoffs
Out in first round: Winnipeg Blue Bombers (L 42-24 to Roughriders), Hamilton Tiger-Cats (L 35-12 to Alouettes)
Out in second round: Ottawa Rough Riders (L 20-10 to Alouettes), Saskatchewan Roughriders (L 30-18 to Eskimos)
1976 playoffs
Out in first round: Winnipeg Blue Bombers (L 14-12 to Eskimos), Montreal Alouettes (L 23-0 to Tiger-Cats)
Out in second round: Hamilton Tiger-Cats (L 17-15 to Rough Riders), Edmonton Eskimos (L 23-13 to Roughriders)
1977 playoffs
Out in first round: Winnipeg Blue Bombers (L 33-32 to BC Lions), Toronto Argonauts (L 21-16 to Rough Riders)
Out in second round: Ottawa Rough Riders (L 21-18 to Alouettes), BC Lions (L 38-1 to Eskimos)
Grey Cup results
Link to stats database: https://www.cflapedia.com/Years/1973details.html through https://www.cflapedia.com/Years/1977details.html
Follow me on Twitter: https://twitter.com/Zmiller_82