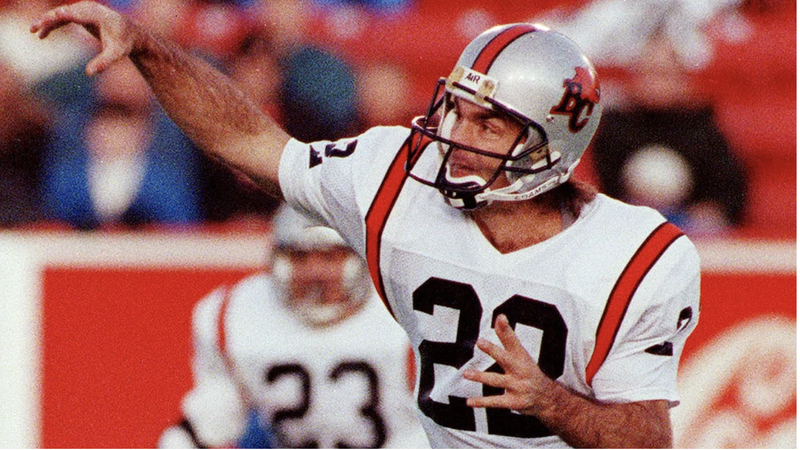 By Zane Miller
In seasons 31 through 35 of the Canadian Football League, the Winnipeg Blue Bombers won the championships during this span with two, taking the Grey Cup in 1988 and 1990. The remaining championships were claimed by different teams, as the Saskatchewan Roughriders won in 1989, the Toronto Argonauts winning in 1991 and the Calgary Stampeders snapping a 21-year-long drought in 1992.
The BC Lions took the runner-up spot in 1988, while the Hamilton Tiger-Cats came up short in 1989 and the Edmonton Eskimos (now Edmonton Football Team) were defeated in 1990. The Stampeders lost in 1991 before returning to win the Cup the next season, taking down the Blue Bombers.
BC Lions and Calgary Stampeders quarterback Doug Flutie won two of his four straight Most Outstanding Player Awards in 1991 and 1992. Flutie would go on to earn a total of six Most Outstanding Player Awards, which remains as the most all-time.
1988 MVP: David Williams (BC Lions, WR)- 18 TD & 1,468 yds receiving
1989 MVP: Tracy Ham (Edmonton Eskimos, QB)- 30 TD & 4,366 yds passing
1990 MVP: Pinball Clemons (Toronto Argonauts, RB/RS)- 8 TD & 905 yds receiving
1991 MVP: Doug Flutie (BC Lions, QB)- 38 TD & 6,619 yds passing
1992 MVP: Doug Flutie (Calgary Stampeders, QB)- 32 TD & 5,945 yds passing
1988 best record: Toronto Argonauts (14-4, .778) Worst record: Ottawa Rough Riders (2-16, .111)
1989 best record: Edmonton Eskimos (16-2, .889) Worst record: Ottawa Rough Riders (4-14, .222)
1990 best record: Winnipeg Blue Bombers (12-6, .667) Worst record: Hamilton Tiger-Cats (6-12, .333)
1991 best record: Toronto Argonauts (13-5, .722) Worst record: Hamilton Tiger-Cats (3-15, .167)
1992 best record: Calgary Stampeders (13-5, .722) Worst record: BC Lions (3-15, .167)
1988 playoffs
Out in first round: Saskatchewan Roughriders (L 42-18 to Lions), Hamilton Tiger-Cats (L 35-28 to Blue Bombers)
Out in second round: Edmonton Eskimos (L 37-19 to Lions), Toronto Argonauts (L 27-11 to Blue Bombers)
1989 playoffs
Out in first round: Calgary Stampeders (L 33-26 to Roughriders), Toronto Argonauts (L 30-7 to Blue Bombers)
Out in second round: Edmonton Eskimos (L 32-21 to Roughriders), Winnipeg Blue Bombers (L 14-10 to Tiger-Cats)
1990 playoffs
Out in first round: Saskatchewan Roughriders (L 43-27 to Eskimos), Ottawa Rough Riders (L 34-25 to Argonauts)
Out in second round: Calgary Stampeders (L 43-23 to Eskimos), Toronto Argonauts (L 20-17 to Blue Bombers)
1991 playoffs
Out in first round: BC Lions (L 43-41 to Stampeders), Ottawa Rough Riders (L 26-8 to Blue Bombers)
Out in second round: Edmonton Eskimos (L 38-36 to Stampeders), Winnipeg Blue Bombers (L 42-3 to Argonauts)
1992 playoffs
Out in first round: Ottawa Rough Riders (L 29-28 to Tiger-Cats), Saskatchewan Roughriders (L 22-20 to Eskimos)
Out in second round: Edmonton Eskimos (L 23-22 to Stampeders), Hamilton Tiger-Cats (L 59-11 to Blue Bombers)
Grey Cup results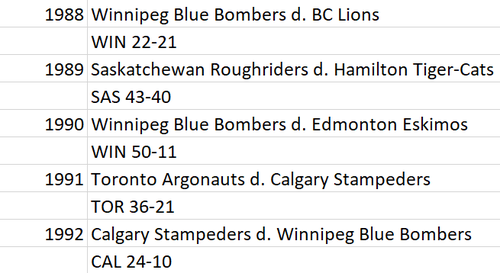 Link to stats database: https://www.cflapedia.com/Years/1988details.html through https://www.cflapedia.com/Years/1992details.html
Follow me on Twitter: https://twitter.com/Zmiller_82