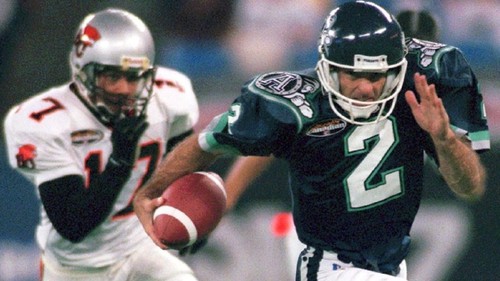 By Zane Miller

In seasons 36 through 40 of the Canadian Football League, the Toronto Argonauts took the most championships during this span, winning back-to-back titles in 1996 and 1997. Also earning Grey Cups were the Edmonton Eskimos (now Edmonton Football Team) in 1993 and the BC Lions in 1994 and the only team outside of Canada to win a Grey Cup with the Baltimore Stallions in 1995. The 1993 season also saw the first American team join the CFL, as the Sacramento Gold Miners entered the league.
The Winnipeg Blue Bombers finished runner-up in 1993, as did the Baltimore Football Club (later renamed to Baltimore Stallions the next season) in 1994. The Calgary Stampeders were saddled with the loss in 1995, with the Eskimos losing in 1996 along with the Saskatchewan Roughriders in 1997.
Calgary Stampeders and Toronto Argonauts quarterback Doug Flutie took four Most Outstanding Player Awards during this span, winning in 1993, 1994, 1996 and 1997. Flutie scored a total of six Most Outstanding Player Awards, which is still the most all-time.
1993 MVP: Doug Flutie (Calgary Stampeders, QB)- 44 TD & 6,092 yds passing
1994 MVP: Doug Flutie (Calgary Stampeders, QB)- 48 TD & 5,726 yds passing
1995 MVP: Mike Pringle (Baltimore Stallions, RB)- 13 TD & 1,791 yds rushing
1996 MVP: Doug Flutie (Toronto Argonauts, QB)- 29 TD & 5,720 yds passing
1997 MVP: Doug Flutie (Toronto Argonauts, QB)- 47 TD & 5,505 yds passing
1993 best record: Calgary Stampeders (15-3, .833) Worst record: Toronto Argonauts (3-15, .167)
1994 best record: Calgary Stampeders (15-3, .833) Worst record: Shreveport Pirates (3-15, .167)
1995 best record: Calgary Stampeders (15-3, .833) Worst record: Ottawa Rough Riders (3-15, .167)
1996 best record: Toronto Argonauts (15-3, .833) Worst record: Ottawa Rough Riders (3-15, .167)
1997 best record: Toronto Argonauts (15-3, .833) Worst record: Hamilton Tiger-Cats (2-16, .111)
1993 playoffs
Out in first round: Saskatchewan Roughriders (L 51-13 to Eskimos), Ottawa Rough Riders (L 21-10 to Tiger-Cats), BC Lions (L 17-9 to Stampeders)
Out in second round: Calgary Stampeders (L 29-15 to Eskimos), Hamilton Tiger-Cats (L 20-19 to Blue Bombers)
1994 playoffs
Out in first round: Edmonton Eskimos (L 24-23 to Lions), Toronto Argonauts (L 34-15 to Baltimore FC), Ottawa Rough Riders (L 26-16 to Blue Bombers), Saskatchewan Rough Riders (L 36-3 to Stampeders)
Out in second round: Calgary Stampeders (L 37-36 to Lions), Winnipeg Blue Bombers (L 14-12 to Baltimore FC)
1995 playoffs
Out in first round: BC Lions (L 26-15 to Eskimos), Birmingham Burracudas (L 52-9 to Texans), Hamilton Tiger-Cats (L 30-13 to Stampeders), Winnipeg Blue Bombers (L 36-21 to Stallions)
Out in second round: San Antonio Texans (L 21-11 to Stallions), Edmonton Eskimos (L 37-4 to Stampeders)
1996 playoffs
Out in first round: Hamilton Tiger-Cats (L 22-11 to Alouettes), Winnipeg Blue Bombers (L 68-7 to Eskimos)
Out in second round: Calgary Stampeders (L 15-12 to Eskimos), Montreal Alouettes (L 43-7 to Argonauts)
1997 playoffs
Out in first round: Calgary Stampeders (L 33-30 to Roughriders), BC Lions (L 45-35 to Alouettes)
Out in second round: Edmonton Eskimos (L 31-30 to Roughriders), Montreal Alouettes (L 37-30 to Argonauts)
Grey Cup results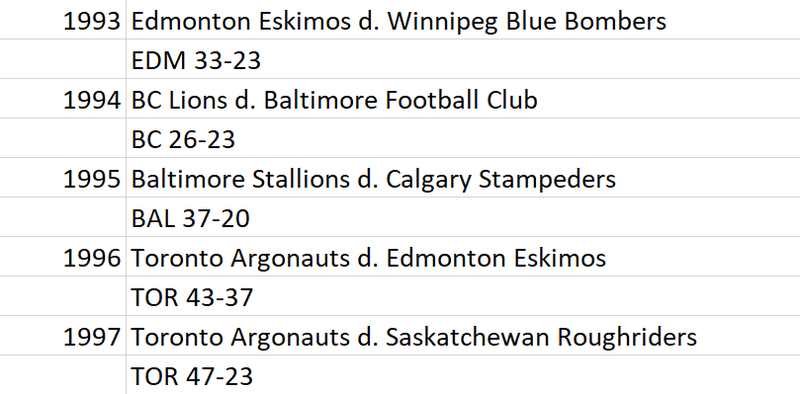 Link to stats database: https://www.cflapedia.com/Years/1993details.html through https://www.cflapedia.com/Years/1997details.html
Follow me on Twitter: https://twitter.com/Zmiller_82