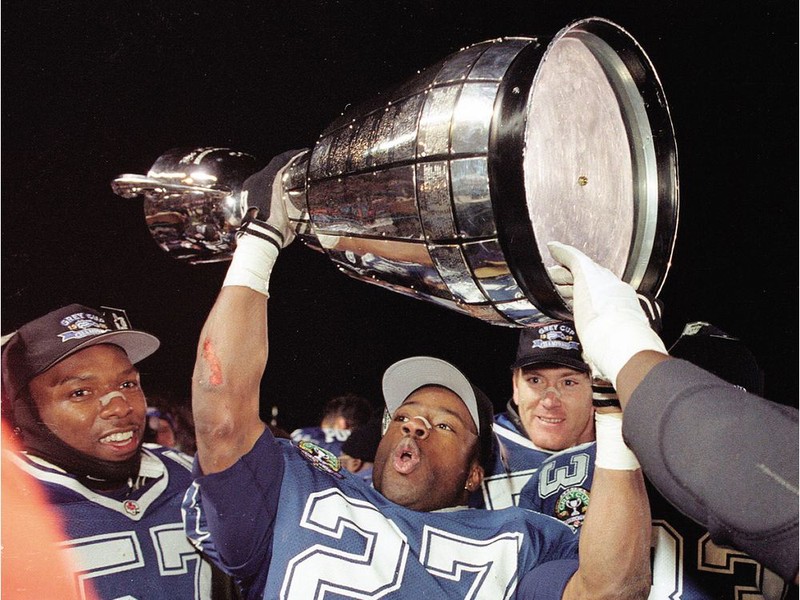 By Zane Miller
On Sunday, November 19th, 1995, the Baltimore Stallions took down the Calgary Stampeders at Taylor Field in Regina to win the 83rd Grey Cup 37-20, becoming the first and only team from the United States to win the Canadian Football League championship game.
The Stallions joined the CFL for the 1994 season as an expansion franchise, along with the Las Vegas Posse and Shreveport Pirates as the league looked to expand further into the United States, with the teams joining the Sacramento Gold Miners, who had already joined the league the previous year.
The Stallions were known as the "Baltimore Football Club" officially for 1994, as the team wanted the name "Baltimore Colts" after the National Football League team that had previously played in Baltimore before moving to Indianapolis in 1983. However, the NFL still had the copyright on the Baltimore Colts name, and refused to allow the new CFL franchise to use it as theirs. Instead, the franchise used the much more generic Baltimore Football Club, but employed a clever loophole to unofficially establish themselves as the new Baltimore Colts. When the team was introduced before home games, public address announcer Jack Taylor would announce: "Your Baltimore CFL…" before pausing briefly to allow the crowd to shout "Colts!" Before finishing the announcement with "…football team" to comply with the NFL's copyright.
Unlike many expansion franchises, the team found immediate success, earning a 12-6 record on the inaugural season and finding their way into the playoffs. "Baltimore FC" disposed of the Toronto Argonauts in the semi-final round 34-15, before winning 14-12 against the Winnipeg Blue Bombers in the conference finals to move on to the Grey Cup, becoming the first American team to advance to the championship.
However, the team was unable to make their way past the BC Lions, who had home-field advantage for the game, and took the championship 26-23 on a game-winning field goal as time expired.
Stay tuned for Part 2!

If you enjoyed this article, please consider becoming a supporter on Patreon! For just $1/month, you can help support articles like these and get great benefits as well: patreon.com/Zmiller82
Follow me on Twitter: twitter.com/Zmiller_82