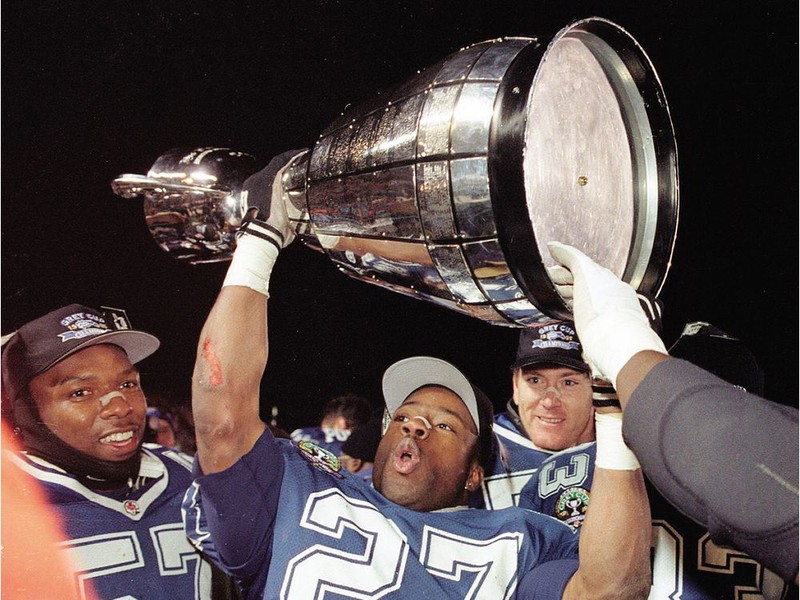 Link to Part 1: https://scorum.com/en-us/cfl/@zmiller82/the-baltimore-stallions-and-the-1995-grey-cup-pt-1
Baltimore returned for the 1995 season, although with a new name as they renamed themselves as the Baltimore Stallions. The team finished the year with a strong regular season record of 15-3, more than enough to make their way into the playoffs yet again.
The Stallions defeated the Winnipeg Blue Bombers 36-21 in the first round, followed by the conference finals where they defeated a fellow American team in the San Antonio Texans 21-11, advancing into the 83rd Grey Cup.
The Stallions faced the Calgary Stampeders on neutral turf at Taylor Field in Regina for the Grey Cup. Baltimore was the first to get on the board with an 82-yard punt return for a touchdown courtesy of All-Star returner Chris Wright, with kicker Carlos Huerta drilling the extra point for a 7-0 lead. The Stampeders would come back with two field goals from kicker Mark McLoughlin, making the score after one quarter 7-6.
The second quarter saw Calgary take their first lead as linebacker Marvin Pope entered the game on offense and caught a short touchdown pass from future NFL Pro Bowler Doug Flutie, with the extra point good to make it 13-7.
The rest of the half would be all Baltimore, however, as Huerta added three field goals along with a fumble returned for a touchdown by defensive back Alvin Walton. The Stallions headed into halftime with a 23-13 advantage.
The Stallions would earn a rouge to start off the third quarter, as Stallions punter Josh Miller booted a punt through the end zone, giving Baltimore a 24-13 lead. The Stampeders took advantage of the field position and marched down the field, setting up a touchdown run from Flutie to cut Baltimore's lead down to four. The Stallions responded before the end of the quarter, as Stallions quarterback Tracy Ham rumbled in for a touchdown run of his own to give his team a 31-20 advantage.
In the fourth quarter, Huerta added a pair of field goals for Baltimore as the Stallions defense shut out the Stampeders in the fourth to preserve the 37-20 victory to claim the 83rd Grey Cup, the first and only Grey Cup championship to be won by an American team.
However, the 83rd Grey Cup would be the last game played by Baltimore at the CFL level. Once the dust settled from their Grey Cup victory, it became clear that the team would not stay in Baltimore due to a large amount of debt and attendance issues, as well as the new Baltimore Ravens NFL team set to begin play the next season. In January 1996, it was announced that the team would be dissolved and the players used to revive the old Montreal Alouettes team, who had suspended operations after the 1986 season.
If you enjoyed this article, please consider becoming a supporter on Patreon! For just $1/month, you can help support articles like these and get great benefits as well: patreon.com/Zmiller82
Follow me on Twitter: twitter.com/Zmiller_82