Yes, Betman continues with a chess tournament marking 50 years (or half a Century) from the monstrous match in Reykjavik, Iceland in 1972. Round 2 will be held on Thursday!

The pic of the contenders, Spassky and Fischer, did not bring much SCR. So, Betman must resort to clickbait…
If you ask what does Mila Jovovich has with the chess tournament, the story goes like this: If you want to play like those two guys…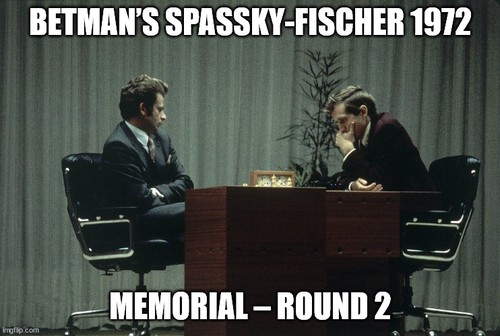 …you have to invest at least some time and effort. Listen, Fischer is ready to show you how you must play chess:
But you have to practice. How long to became a World Champion? Come on guys, it can't go quick – you have to practice at least two days! You think it is impossible? Of course it isn't! If Mila Jovovich can learn to kill giant monsters on unknown planets in two days tops, you can learn to play championship chess! It is a mental attitude matter!
So, go practice now, and then come on Thursday at the LiChess tournament…
…and snatch that historic title!
Betman is waiting for you!