We are all living in exciting end of times! And, as always, Betman brings you news from the edge: Magnus Carlsen lost his crown!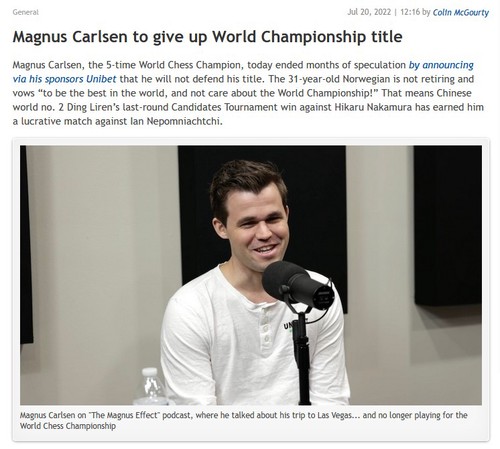 Someone must replace him on the Throne of Games (Did anybody said 'Coming is Winter?') So, who will be a new Champion? Ian Nepomniachtchi? Or Ding Liren? Or one of you? Listen to this scenario: Nepomniachtchi is Russian and excluded from the title match because of 168 round of sanctions which include chess. Chinese government declares a viral hoaxdown… a lockdown, and Ding Liren can't play. Soon, you could have someone from FIDE knocking on your door with an offer to play a title match! Therefore, you have to be prepared. Come to training tournament at Betman's 1972 memorial:
In the previous message you can find more info, Bobby Fischer's instructions how to became a World Champion in two days, and motivational video from Mila Jovovich. If that cannot bring you closer to chess, well… Betman does not believe a cryptocurrency reward could. Right?
Do we have Champions here?