They took me from my house, confiscated my phone, and held me for seven hours. Deputy head of world chess held daughter's birthday in Minsk police
Until recently, not so much was said about Belarusian chess players, and not everyone could immediately name the best chess player in our country, as well as the one who heads the federation. However, the current events in Belarus made it possible to realize that there are courageous people in this sport.
For example, 26-year-old Russian grandmaster Vladislav Kovalev refused to obey the regime. The guy rejected participation in the championship of Belarus, since for this he was forced to sign an additional agreement drawn up for all athletes in the country by the relevant ministry. And soon Kovalev signed an open letter from the athletes.

And even earlier, Anastasia Sorokina, Chairperson of the Belarusian Chess Federation, Vice-President of the International Chess Federation (FIDE), signed a letter in favor of a new presidential election and against violence. And on October 29, she stopped communicating - as it turned out, she went to one of the police department of Minsk. Almost all day no one knew what happened to Sorokina and where exactly she was, fortunately, Anastasia was released on the same day. She immediately left for Moscow (on a planned business trip), and after recovering a little, she told Tribune in more detail about what had happened.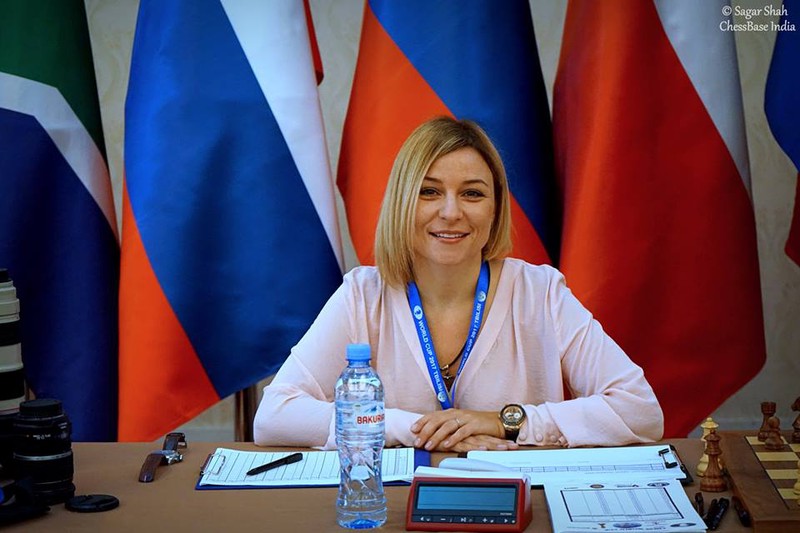 - On October 29, just on the birthday of my daughter, officers of the Partizansky District Department of Internal Affairs of Minsk came to my home in the morning. I was told that the Chess Federation's activities are being checked. During the conversation, the phone and flash cards were seized, and then taken to the police department. To be honest, I thought it was a standard document check under current legislation. Considering that we in the federation are as open as possible and comply with the law, the requested documents were quickly submitted, and I answered the necessary questions.
- On what grounds were your phone and flash cards seized?
- This is not clear to me. I have already written an application for the return of my personal belongi
- With what words and when were you released?
"They said that if there were additional questions, they would have to come again. The officers came to our house at about 8 am, and I left the police department about three days - it turns out that I spent about seven hours in the company of law enforcement officials. A classic game of chess lasts about this long :).
- Now you are in Moscow. Did you leave for safety?
- No, this is a pre-planned business trip, including for negotiations with FIDE on minimizing the negative consequences of the refusal to host the Chess Olympiad by the Belarusian side.
- And how did your colleagues in Moscow react to your arrest?
- Everyone was very worried, because they knew that by the evening I was supposed to arrive in Moscow, and suddenly something like that ... Since I am the vice-president of FIDE, colleagues from all over the world were worried.
- Was your husband admitted to the police department?
- When the conversation ended, I called him and asked him to come for me. We met on the street. I immediately called my daughter. She promised to bring her a cake before leaving for Moscow. Of course, we will remember this birthday of her fore
- Many tried to get in touch with you on Thursday, not knowing where you are. After leaving the police department, did you receive many words of supp

- I was only in Russia able to connect to social networks - and saw a huge number of messages from my friends, acquaintances and colleagues from all over the world. While I was spending my daughter's birthday within the walls of the police station, my husband received hundreds of calls and messages with questions about what happened to me, where I was and whether I needed any help. Of course, it was not the best day in my life, but it was thanks to him that I once again realized that I am a very happy person, because I am surrounded by wonderful people - kind, sensitive and sympathetic! I am proud of our incredible Belarusians and endlessly grateful to them and to all those who wrote me warm words of support from every corner of our pla
- What will you do next?
- I still plan to work on the development and popularization of chess in Belarus and around the world. And as soon as I finish my current affairs in Russia, I plan to return home.
- Aren't you afraid that the police department may come to you again?
- I hope that next time police officers will come to the federation to learn how to play ch
P.S. It is worth noting that Anastasia Sorokina got into trouble shortly after she signed a letter to end the violence and resign Lukashenka. Problems also appeared among other athletes who signed this letter, someone went to jail, someone was expelled from the national team of Belarus, someone was deprived of their earnings in a coaching position. In total, this letter was signed by 1000 Belarusian athletes and coaches.