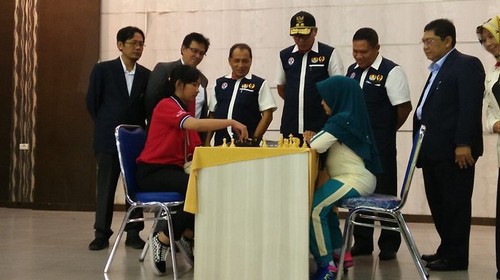 Four Acehnese chess players managed to collect 2 points from two rounds of matches on the first day of the 47th National Championship (Chess) in the Multipurpose Hall, Harapan Bangsa Stadium Complex, Lhong Raya, Banda Aceh, yesterday.
The four senior Aceh chess players were National Master (MN) Chairil Naldy, Master Fide (MF) Zulkhairi, Miftalahuddin, and MN Wita Rahayu. They managed to defeat tough opponents from other provinces. Chairil won over the race for Hidayat (Aceh), MF Zulkhairi defeated non-title chess player Imran (Southeast Sulawesi), Miftalahuddin overthrew MF Muhammad Miftahul Hudany from South Kalimantan.
While another senior Aceh chess player, MN Irwandi must submit to non-superior chess players from West Sumatra, J Manurung. The International Master (MI) Denny Juswanto G (Banten) surprisingly lost to MN Kleo Patra (South Sumatra).
While the four Acehnese chess players who dropped in the veterans category namely Ismed, Idaman Anhar, Syahrum Syah, and Nyak Ruswan who excelled in the first round, finally had to fall in the second round. The Chess National Championship also matches the age category (KU) junior chess category. Today, the chess competition still holds the third and fourth rounds of the nine rounds competed.
Chairman of the Committee, Aldin NL said, from the 40th National Working Meeting (Rakernas) which was attended by 60 participants from 30 provinces in Indonesia, chose Maluku Province as the host of the 48th Chess National Championship in 2019.
source : serambinews.com