I am struggling to keep my Lichess rating above 1800 because it is near highest ever and opponents became more serious than those I faced before. I managed to win against player elmontron who has better rating than me. It was not game without mistakes, one without much planning were I guess I had more luck than other side. It was exciting at least for me. I am always happy when I don't make some strong piece free giveaway by placing it on hot spot. I was like football team who is playing without idea and wait for cardinal mistake by other side.
Game started with some Sicilian Defence Staunton Cochrane Variation where I planned to experiment and pair Bishops one to another.
1 e4 c5

2 c4 Nc6
3 Nf3 Nf6
4 Bd3 d6
5 b3 Bg4
6 h3 Bh5
7 Bb2 e6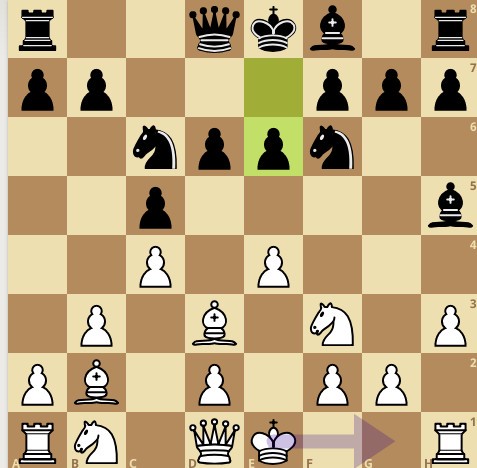 After 7 moves board looked like this. I have black bishop on strong position and open diagonal, while light Bishop stands on wrong place blocking my pawn on d2. My idea here was to put light Bishop on c2 to pair it with black, to move pawn d2 to d3 and then Knight to d2 to unleash queen which now stands in dangerous position without risking of doubling pawns on f line.
8 O-O Be7
9 Re1 Qc7
10 Bc2 h6
11 d3 g5
12 Nbd2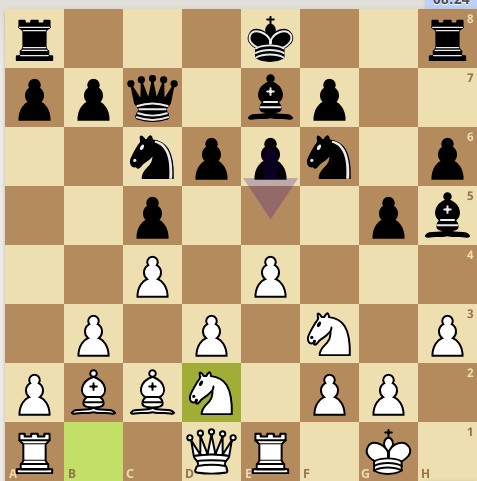 Soon I did what I wanted but black pawn attack on my castle already started.
g4
13 hxg4 Bxg4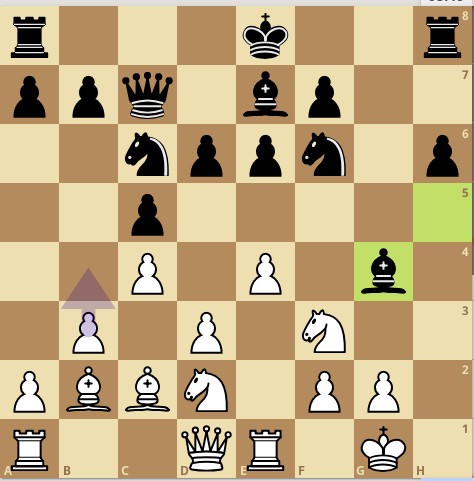 After pawn exchange I moved queen to b1, he moved pawn on h5 before I attacked his Bishop with my f3 Knight on h2. I decided to remove that annoying black dark Bishop at any cost noticing that his Knight on f6 is bound because if he moves rook on h8 will fall by my dark Bishop.
14 Qb1 h5
15 Nh2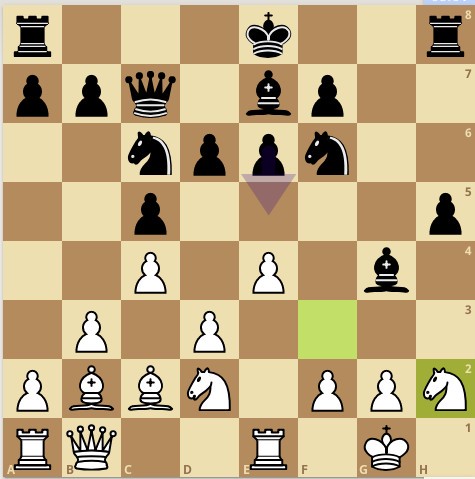 h4
16 Nxg4 Nxg4
17 Bxh8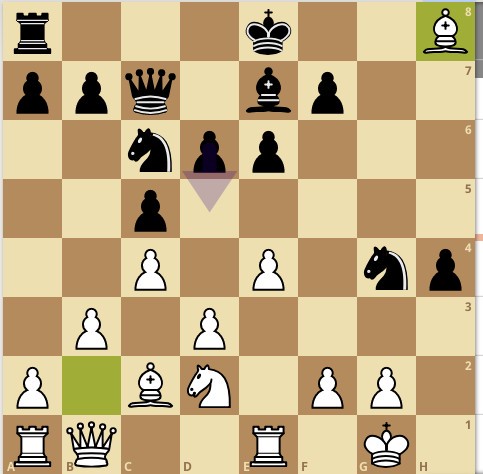 He surprised me because he did not remove my Knight with his pawn but with his bounded Knight. I thought he must forgot my dark Bishop, let's remove his rook there on h8. What I didn't notice is that he might attack with his Queen breaking in my castle on h2 with possible check mate threat. After he moved pawn on d5 I wanted to attack his annoying Knight on g4., but his Queen came when it hurts. I thought I am lost here. At this point I saw deadly move of Knight on d4 and possible check mate, but my dark Bishop could remove it if necessary. That was not planned, just pure luck.
d5
18 Qd1 Qh2+
19 Kf1 Qh1+
20 Ke2 Qxg2
21 Rf1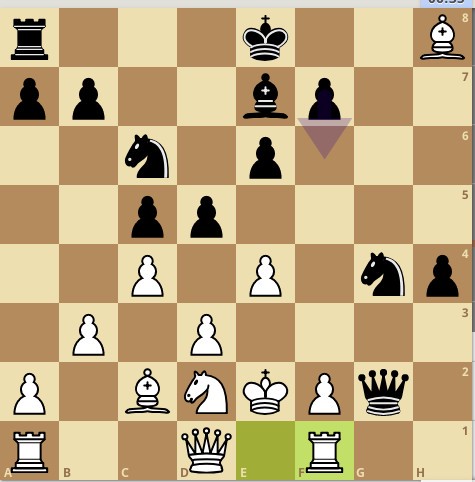 He didn't block my dark Bishop with his pawn as computer here suggest but made big castle after which I moved my valuable bishop to more secure location.
O-O-O
22 Bb2 dxe4
23 Nxe4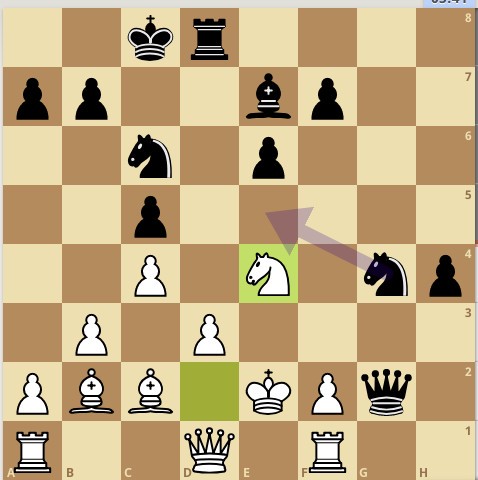 Things became more ugly for me I hardly escaped chekmate. He wanted to open d line for his rook but that let my Knight to e4 to block dark Bishop from going to g5 which would be probably game over for me. Also defence on pawn on f2 was increased.

f5
24 Rg1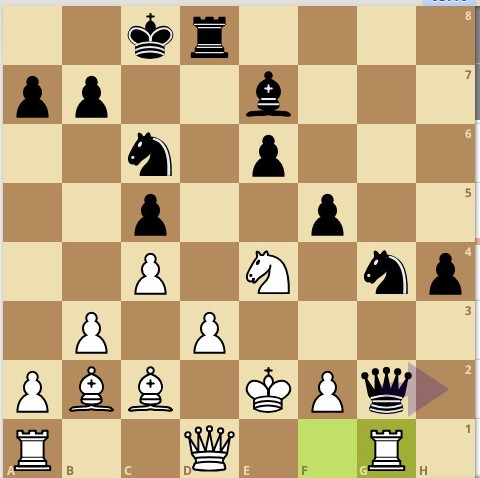 He wanted to atack my Knight on e4, I decided to attack his annoying Queen on g2. I didn't ask for price to remove his Knight, I sacrificed Rook for it. I could I had advantage in material.
Qh2
25 Rxg4 fxg4
26 Qg1 Qh3
27 Re1 Qf3+
28 Kd2 e5
29 Re3 Qf5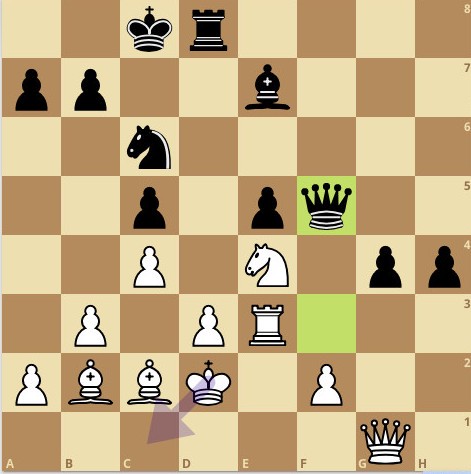 Soon everything looked little better for me but I need to move king away from d line which was under heavy fire from his d8 Rook.
30 Kc1 Bf8
31 Kb1 Nd4
32 Bxd4 cxd4
33 Re2 h3
34 Qh2 Bh6
35 c5 Bf4
36 Qh1 Rh8
He pushed hard with his pawns in attempt to promote them, but his Queen and King were in dangerous positions exposed for Knight to attack them both on same time. I noticed that and moved pawn on c5 to protect d6 field for my Knight. I was very sure he see danger, but on my surprise he moved rook away to h8 for some reason.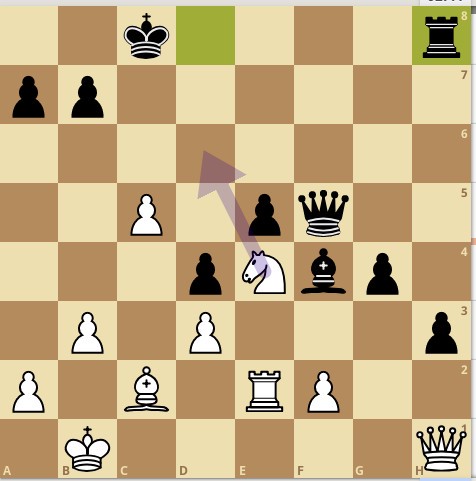 His Rook move to h8 was bogus move and my Knight soon came to d6 and game was over for black. He surrendered at this point.
37 Nd6+
Not the best game I've played, my opening was bad, I didn't notice his Queen attack and managed to miss Check mate by mix of luck and his bad moves. Then he probably became angry on himself why he could not check mate me and came from one to other mistake until final bogus move of his rook. That was mistake I was waiting for.
If you like you can track this game on this link.
If you like you can give me your opinion about this amateur Chess game.
I am writing this article second time because I somehow close tab of scorum while writing it. That was big blow. I remembered instantly nice feature of gmail to draft non finished emails and wondered if scorum could save in draft what someone is writing for such big hackers as myself. LoL
Thank you for reading.