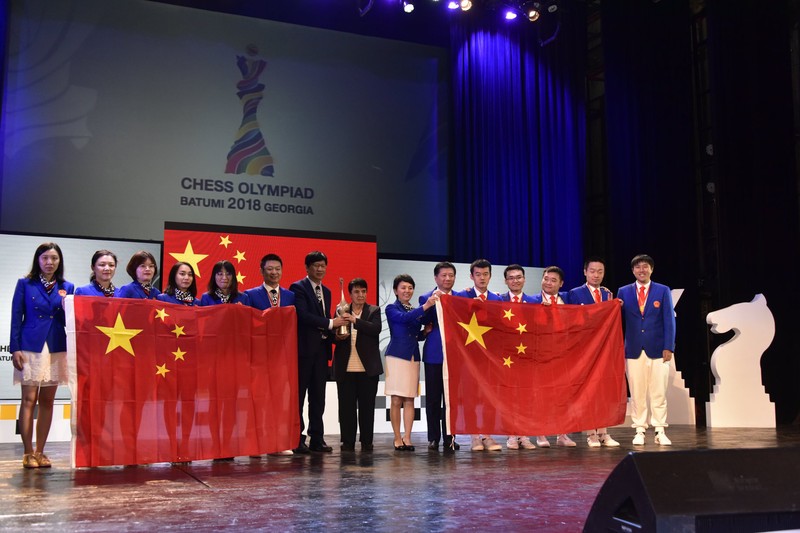 The Georgian city Batumi was hosting 43rd Chess Olympiad. China won both sections, which is something only Soviets achieved, last time 32 years ago. Nevertheless, it was far from easy for the new emerging chess superpower.

As far as men are concerned, there was a relatively clear favourite. The United States of America won the Olympic gold at the previous Chess Olympiad in Baku.
Hikaru Nakamura, Wesley So and Fabiano Caruana belong to the cutting edge of contemporary chess, but Nakamura, known for his aggressive and uncompromising style, did not meet the expectations. He played on the third board and gained only half of the possible points which turned out to be decisive. The only loss of the US against the biggest surprise of the tournament Poland in the ninth round, when precisely Nakamura lost to an underdog Piorun, cost American a title.
They needed to win in the last round in a direct fight against China, but Asians played in a safe manner and all four games ended in a draw. Consequently, China edged off both Americans as well as Russians due to tie-break, since all three nation had the same amount of points. On the other hand, Fabiano Caruana had a great tournament and played extremely nice chess which is a good sign for the upcoming world championship match against Magnus Carlsen.
Russian's curse continues
There is a 32-year long period in the history with only one country having the best team in the world – Soviet Union, or Russia. Teams around Kasparov, Karpov, Ivanchuk, Beliavsky, Yusupov and later Svidler guaranteed well-known Soviet school incredible twelve wins in a row! Nevertheless, Russia has not won men's Chess Olympiad for 16 years in spite of the fact that it has a lot of great grandmasters.
The atmosphere in the team is not good, Kramnik does not live in Russia with the rest. It is a big question why players like Peter Svidler (eight times Russian champion) or another excellent player Alexander Grischuk did not even travel to Baku. Shocking loss to Poland and not less surprising draw against Serbia condemned Russia to bronze medal and they did not even play against their main rivals from US or China.
Consequently, China repeated its gold medal from Norway in 2014. They made it in spite of a very poor performance by the chess prodigy named Wei Yi who is 19 years old but already has a rating way above 2700. His 50 percent on the third board was a big disappointment. Nevertheless, almost flawless performance of Ding Liren and Bu Xianghzi compensated the failure of Wei Yi. The Chinese team lost only one match, namely against very well playing Czechs.
Drama until the very end
The section of women was not less tense and balanced. The Chinese and Ukrainian women did not suffer any defeat throughout the whole tournament. Both teams won seven times and recorded four draws.
The decision point came in the very last round. China was facing Russia and Ukraine played against the United States. Ukraine won relatively easily 3:1 and the development between China and Russia was playing into its cards as well. It was 1,5:0,5 to Russia and chess beauty queen Alexandra Kosteniuk seemed to be in drawish position against Ju Wenjun and Olga Girya was in a completely winning position vs. Lei Tingjie. However, Girya only drew and Kosteniuk lost which meant that a total score was 2:2 which was enough for Chinese women to gain gold medals. In terms of individual performances, 16-year-old American Jennifer Yu standed out with 8 points out of 11 games.