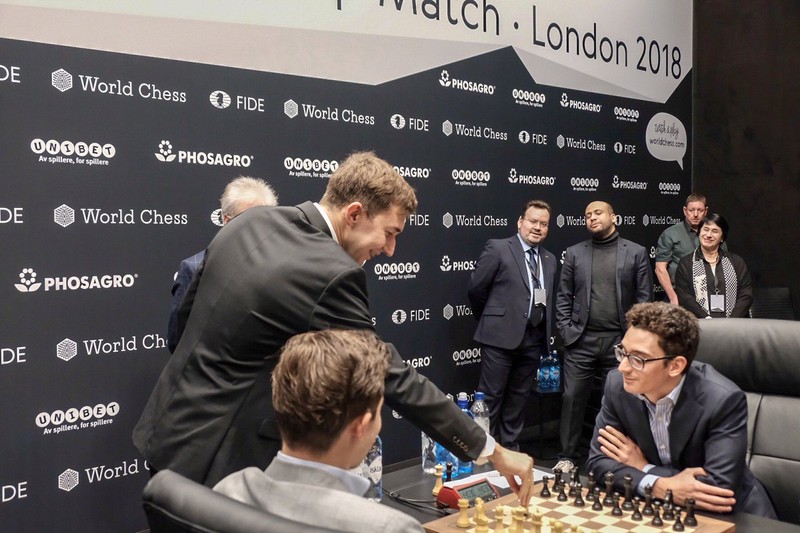 I know that Brandon would never agree with me that chess is a sport, but it obviously is. Anyone else who still doubt that should watch the World Chess Championship game between Fabiano Caruana and Magnus Carlsen. So far, it was a very exciting match with a lot of tension and drama. Of course, some people might have expected to see a more open and aggressive match, but both Caruana and Magnus know what's at stake here, so they are not willing to take risks just yet. But things might change in the last game because Caruana is playing white and he knows that going to a tie-breaker against Magnus Carlsen is not exactly the best idea.
I was quite disappointed by game 11 of the championship match. Magnus Carlsen gave up trying to win pretty fast and it was obvious that we were heading to another draw after Magnus played the line in which both players exchanged queens. I cannot blame Magnus, though, as he admitted that he is liking the idea of playing the tie-break. Also, Caruana caught Magnus by surprise and showed that he was in total control of the game 11th and knew exactly what to do to get a draw. It was if both players could shake the hands even before the match start.
Today, things won't be the same. I am sure that Caruana will go all in and will play more aggressive than in previous games. He just has to take a shot at winning the World Chess Championship today in a long game with white. Of course, a draw would still keep him in the match, but even though Caruana won't admit it, he is a reasonably weaker player than Magnus when it comes to rapid and blitz games. I really doubt that we should talk about Armageddon game here, but it would be fascinating to see. I would say that Armageddon game would be equal to taking a penalty shot when the penalty shootout score is already 10-10. If I were a player, I would hate to play Armageddon, but it might be good for chess in general as way more people would watch that deciding game compared to long 3-5 hours matches.
While we are still talking about the format of the match, I agree with Magnus that 16-18 games should be played instead of 12. That would allow players to take more risks and would make the match more interesting to the viewers, especially the ones who are not that good at chess and want to see some action instead of boring tactical defending.
I personally watch the World Chess Championship here:
Some of the best players in the world commentate and analyze every move, making it interesting to watch. Also, this podcast is great for people like me, who are not masters at chess. Professional players really help to enjoy the game more and understand the reason for every move which Magnus and Caruana take. Also, Alexander Grischuk, the thug of chess, is commentating the games making it extremely funny to watch. The game is about to start very soon, so you should either tune in now or wait for it to end and watch the whole podcast later (it stays on youtube as a normal video).
Getting back to the match, Carlsen admitted that he is not happy to play the deciding game with black and I am pretty sure that he will be aiming for a draw. Many people also speculate that Caruana might be playing safe as well to get to the tie-break, but it sounds ridiculous to me. Of course, Caruana won't be playing reckless, but he will be aggressive. In what world would anyone want to play a rapid game tie-breaker against Magnus Carlsen, arguably the best rapid and blitz chess player in the history?
I would love to tell you more about the openings I expect, but I doubt that anyone in here would understand. Also, I don't understand most of the openings myself. I am only sure that Caruana will start with E5. Everything else is unknown to me except for the fact that Carlsen will play safe and choose his most analyzed lines, trying to avoid any surprises from Caruana.
The only thing I know is that people really underestimate the amount of time players and their teams take to prepare for those matches. They spend hundreds of hours trying to find any weaknesses in both their own and their opponents game. Also, the factor of surprise is pretty relevant in chess. However, I don't think that Caruana or Carlsen would be bold enough to risk it all in the final game which might decide the champion. In fact, the psychological preparation and mental strength might be crucial here. I do think that Magnus Carlsen has a little advantage in this field as he is more experienced in playing big games. And yet, Caruana looked mentally fit throughout the Championship match so far so I do think he should be fine. The worst thing would be seeing any of player making a huge blunder and losing the game because of that. Also, that wouldn't help chess get any popular.
What are your thoughts guys? Who do you support?