West Indies 1 - 0 England: The West Indies have surprised us with their sustenance - there were things far greater than cricket driving them during this Test match.They must remember, however, that there is a series to win. For now, this is Rishi Roy, signing off from the comment box, which is literally all over the place, on behalf of Ramki MS, Pradeep K, Akshay Maanay, Sagar Chawla, Praveen, and our concussion substitute, Abhinand Raghavendran. We'll be back on the 16th for the second Test at Old Trafford. Until then, cheerio!
There were several questions to be answered when the Test began. And yet, the West Indies' victory answered one that no one had bothered to ask. Saliva? Nope, sweat. There was far more seam than swing in this Test, and the clouds didn't get dark enough to help England - neither the myth about swing, nor the reality of rain, when England desperately needed it.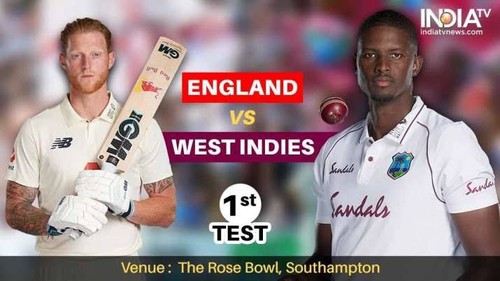 The last time WI won the first Test of an overseas series (excluding Zim/Ban/Afg)
Overall: vs SA Port Elizabeth 2007/08
in Eng: Edgbaston 2000
They ended up losing both the series.
- Since Ashes 2013/14 England have played 24 series of two+ Tests (including this one) and they have lost at least one Test in 22 of those. The only side that failed to beat England in a series in this period is Sri Lanka across two series and six Tests (2016 & 2018/19).
WI chasing 200 or fewer in fourth innings
Instances 61
Won 55 *
Draw 6
Lost 0
#cricbuzz