Nepal Started its ICC Women's World Cup Qualifier(Asia round) with a victory over Malaysia by 34 runs. Nepal beat Malaysia by 34 runs in its first match of the group on Thursday.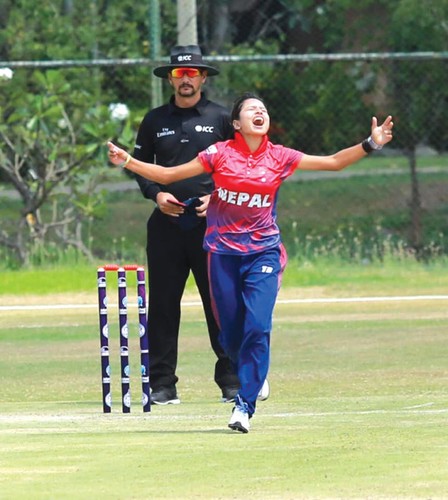 Nepal scored 126 runs in the loss of 5 wickets after winning the toss. Than Malaysia dismissed in 92 runs chasing the target of 127. Opener Sita Rana Magar scored 42 runs for Nepal. Captain Rubina Chhetri made an unbeaten 33 runs. Also, Kajol Shrestha, Indu Barma and Neri Thapa made 16,13 and 6 runs respectively. C. Baret and W. Duraisingam scored 21and 18 respectively for Malaysia. S. Azmi also made 16 runs but none of the other players reached double digits marks. Karuna Bhandari and Sarita Magar took two wickets each for Nepal. Kabita Kunwar and Sita Rana Magar also took 1 wicket each. Nepal has made two points with the first win. Nepal will play second match with Thailand on Thursday.
Thailand, UAE, Malaysia, Kuwait, China and Hong Kong are also participating in Asia qualifier along with Nepal. The tournament will be held in a format of round-robin league. The winner of the tournament will qualify for the global qualifier.