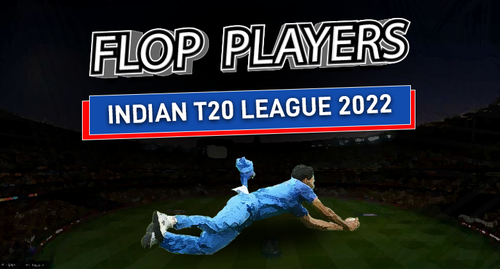 As we approach the business end of the Indian T20 League season, it's a good time to assess which players have been the biggest disappointments. Many of these names have been fantasy cricket regulars in the past, but their form this season has fallen way short of standards previously set. Here we look at one flop player who have been the biggest letdown from each of the 10 teams.
TEAM LUCKNOW: M. PANDEY (88 RUNS IN 6 MATCHES)
In 2009 when Pandey became the first Indian to score an Indian T20 League century, he was seen as the next big thing. It never quite worked out that way. But when Team Lucknow shelled out ₹4.6 crores for him at the auction, they would have expected much more than 88 runs at a pathetic strike rate of 110.
TEAM GUJARAT: M. WADE (78 RUNS IN 6 MATCHES)
The veteran wicketkeeper was one of the stars in Australia's T20 World Cup win. But with Gujarat, he has scratched around just 78 runs (70 balls) in 6 innings. With W. Saha in much better form, he's a flop player and running out of chances to cement his place in the XI this season.
TEAM RAJASTHAN: D. PADIKKAL (295 RUNS IN 12 MATCHES)
On the surface, D. Padikkal has had an average season, scoring 1 half century. But dig a little deeper and you'll see how his slow scoring – a strike rate of 124.47 – has put enormous pressure on the other batters. Rajasthan were certainly expecting a whole lot more when they paid ₹7.75 crores for him at the auction.
TEAM BANGALORE: V. KOHLI (216 RUNS IN 12 INNINGS)
After two average seasons by his high standards, V. Kohli is now experiencing a nightmare one. There have been 3 golden ducks, and the strike rate of 111.34 is his worst since 2008. The only time he crossed the 50-run mark, his slow scoring (58 runs off 53 balls) almost certainly cost Bangalore in a close game. There was a time when, no matter which fantasy cricket app you used, Kohli would be one of the first names picked. That is not the case this season.
TEAM DELHI: M. MARSH (188 RUNS AND 4 WICKETS IN 6 MATCHES)
Marsh had just been adjudged the Player of the Tournament after Australia won the T20 World Cup when Team Delhi paid ₹6.5 crores for his services. But between injuries and Covid-19, he hasn't got going at all except the last match against Rajasthan. The runs have come at a modest strike rate of 134.28 and an economy rate of 9.5 has meant he has bowled only 10 overs.
TEAM HYDERABAD: K. WILLIAMSON (199 RUNS IN 11 MATCHES)

Last season, D. Warner lost the Hyderabad captaincy and was dropped from the team after making just 195 runs in 8 innings. Williamson's form has been even worse, with an awful strike rate of 96.13. If he wasn't captain, he would have been benched weeks ago.
TEAM PUNJAB: J. BAIRSTOW (136 RUNS IN 8 MATCHES)
In his 28 matches for Hyderabad, Bairstow smashed 46 sixes. He was also a cornerstone of England's World Cup win in 2019. But since Punjab Team paid ₹6.75 crores to get him at the auction, little has gone right for him. He has managed 1 half century and hit just 1 six in 8 matches. The strike rate of 117.24 is the worst among Punjab's specialist batters.
TEAM CHENNAI: R. JADEJA (116 RUNS AND 5 WICKETS IN 10 MATCHES)
The R. Jadeja captaincy experiment was a disaster, to put it bluntly, with Chennai winning just 2 of the 8 matches played under his leadership. Worse still, his personal form suffered. His 116 runs have come at a strike rate of 118.36, a flop player and the worst of any regular starter in the Chennai side. With the ball too, he has been less effective than M. Ali and M. Theekshana, the other frontline spinners.
TEAM KOLKATA: V. IYER (175 RUNS IN 10 MATCHES)
When a team pays ₹8 crores to retain you before a mega auction, it's safe to say they have great expectations from you. V. Iyer hasn't been able to live up to those expectations at all this season and turned out to be a flop player. There have been two decent knocks amid a string of failures, and his strike rate has been a dismal 110.06. With the ball, he was a key partnership breaker for Kolkata last season. This year, the 4 overs he bowled have been smashed for 46 runs.
TEAM MUMBAI: K. POLLARD (144 RUNS AND 4 WICKETS IN 11 MATCHES)
R. Sharma has had a dreadful season both as captain and batter for Mumbai, but K. Pollard, retained at a cost of ₹6 crores, has been even worse. Horribly out of touch with the bat, his runs have come at a strike rate of 107.46. The 4 wickets have come at an economy rate of 8.92. It would be a big surprise if T. David didn't replace him as a starter next season. At 35, Pollard's best years seem firmly behind him.
Unlike these players, you can stop becoming a flop player and win handsome cash przies daily this T20 season. Download Howzat Fantasy Cricket App now and enjoy the Indian T20 League fantasy cricket experience. So what are you waiting for?

Source link: https://www.howzat.com/blog/indian-t20-league-2022-biggest-flop-player-of-the-season/