It was 19 September 2007, just another normal day and normal match for Indian fans. It was India vs England T-20 match which was going to be remembered for atleast two decades, something happened in that match and history created !!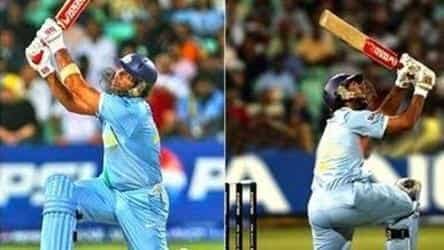 Yes, Yuvraj Singh hit six sixes in an over and the bowler was Stuart Broad. On this day Yuvraj Singh became the first ever cricket player in the world to hit six sixes consecutively in an over. That that Yuvraj Singh made his room in heart of every cricket fan in the world and especially Indian fans.
---
The actual drama started in the 18th over which was bowled by Andrew Flintoff. And Yuvraj Singh smashed for two fours and the English player cannot control his temper and so the 'verbal-was' began, this altercation came to end after ground umpires get involved. Yuvraj Singh carried that anger to the next over of Stuart Broad and the young Stuart became the part this historical moment in dramatic way !! In an interview with Star Sports, Yuvraj Singh he said :
"When you play for the country the emotions are always high. You can get angry too... Flintoff probably didn't like the shots I played off his bowling in the previous over so he had a few words to say and that just motivated me"
In a Podcast with BBC Yuvraj shared some after-match moments about interacting with father of Stuart Broad :
"His dad, Chris Broad, is a match referee and he came up to me the next day and said 'you almost finished my son's career and now you need to sign a shirt for him, So I gave my India jersey and wrote a message for Stuart saying, 'I have been hit for five sixes so I know how it feels. For the future of England cricket, all the best'."
---
Even a decade later not only Indian fans but cricket fans all over the globe watch and love the shots played by Yuvi that day. Last year, after 12 years of this grand success of Yuvraj Sing as well as the Indian cricket team which won the inaugural T-20 world that year (2007), BCCI tweeted the 6-pics college of Yuvis' shots.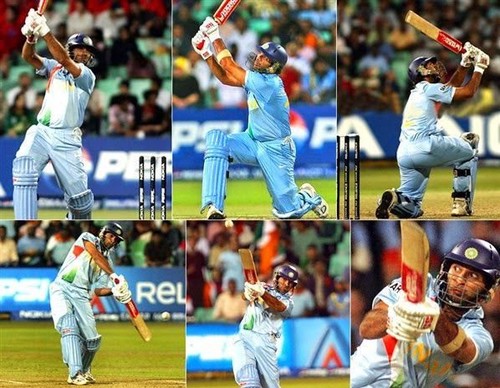 Yuvraj scored the fastest half-century in T-20 match. His score was 58 runs in just 14 bowls which includes three 4s and seven 6s !!
You can watch it here !!!
Hey guys there's a bug !! Can please checkout what % of reward do I get and then click on show details !!