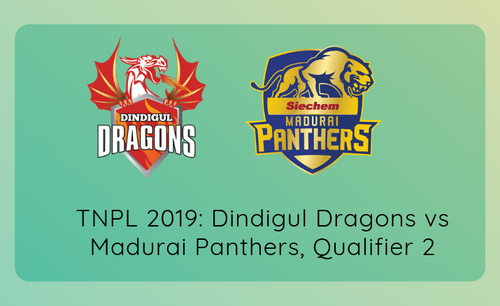 This time TNPL 2019 playoffs is going to be very exciting. The Dindigul Dragons lost their 1 Qualifier match and now going to face Madurai Panthers in 2 Qualifier match. Typically, the Madurai Panthers played a good game against the VB Kanchi Veerans and now they will be playing against Dindigul Dragons in 2 Qualifier.
The match is going to be played today at Dindigul, and the match will be starting at 7:15 PM.
This match can be a bit easy for Dragons, as its been played on their home ground this can be a advantage for them.
The Dragons lost their match against the Super Gillies and because of that, they were not able to get a direct entry into the finals, but this match is going to be very important for them.
Madurai Panthers vs Dindigul Dragons TNPL 2019 Match is going to be played at the NPR College Floor, Dindigul on the 13 of August 2019.
Teams:
Madurai Panthers
Shijit Chandran(c), R Mithun, Kiran Akash, Arun Karthik, A Sarath Raj, Rahil Shah, N Selva Kumaran, R Karthikeyan, SV Muruganantham, T Veeramani, Sudhan Kandepan, Adhithya Giridhar, Varun Chakravarthy, J Jabez Moses, Tushar Raheja, Lokesh Raj, Sabin Karnavar, Nilesh Subramanian(w), Jagatheesan Kousik, Akash Sumra, Abhishek Tanwar, MS Promoth, Thalaivan Sargunam, D Rohit.
Dindigul Dragons
N Jagadeesan(w), Ravichandran Ashwin(c), M Karthik Saran, M Mohammed, Jagannathan Kaushik, Varun Totadri, R Vivek, Sumant Jain, NS Chaturved, S Sujay, M Anbu, Ramalingam Rohit, B Praanesh, Mohan Abhinav, M Silambarasan, Adithya Arun, Trilok Nag, Hari Nishanth, ME Yazh Arun Mozhi,
This match is going to be very exciting. To get to know tune up with Bhaiji and stay updated with latest happening of this match. Bhaiji provide you with the best free TNPL betting Tips for all the matches. You can also subscribe to our paid services to get most genuine cricket betting tips for TNPL.

Original Source: http://www.bhaijicricketbettingtips.com/blog/tnpl-2019-dindigul-dragons-vs-madurai-panthers-qualifier-2/