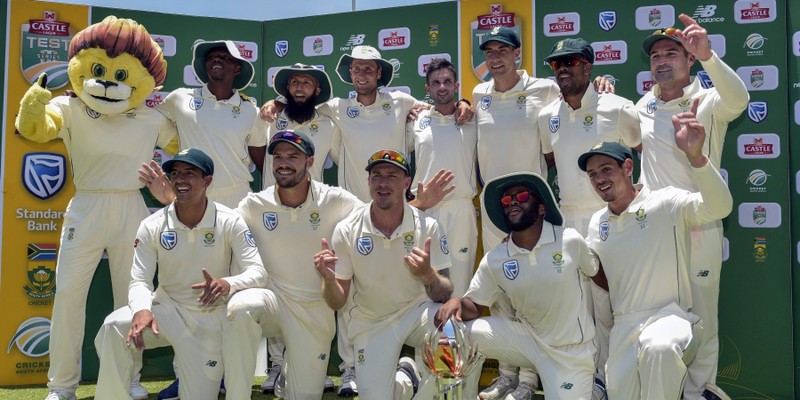 Hello to all, from the title of the post, you definitely understand what was the result of the 3rd test match between South Africa and Pakistan if you have seen first two test match so let say straightly that South Africa won again or can say 3rd match in row and did whitewash to Pakistan by win series by 3-0 so let discuss about 3rd and final test match in details.
with new captain new strategy comes as in previous matches Faf was captain and chosen bowl first after winning the toss but here Elgar choose to bat first which is always good decision in test match because no one likes to bat on 5th day by chasing more than 250 or 300 runs especially in South Africa where ball is more swinging and uneven bounce so overall its good decision for South Africa to chose bat first. both teams made some changes and due to Faf Du Plessis was ban for one match, they included debutant Zubyer Hamza in place for him which is a good decision because a lot of talks about Hamza as they said he is feature star of South Africa. where Pakistan side they brought Shahdab Khan, Hassan Ali and Faheem Ashraf in place of Fakhar Zaman, Shahen Shah Afridi, and Yasir Shah, so now they played with 5 regular bowler which is not good decision because they already have good bowling attack and they gave rest to Saheen Afridi who was in good form in the last match so its one of worst decision for them.
South Africa lost early wicket of Elgar as he kept his poor form continue and out on just 5 runs but after it, Markram again look in good touch with Hashim Amla as they start to makes runs quickly as they kept playing between 4-5 runs per over which is really good for test match cricket. I am so impressed by Aiden Markram because he was just playing his natural stroke making inning where he played lots of wonderful cover drives and straight drives. Markram and Amla made 126 runs partnership which builds an inning for South Africa. Amla and Markram made again partnership of 100 runs back to back which South Africa badly needed at that stage. unfortunately, Markram was out on 90 by Faheem Ashraf by very poor delivery as the ball was just going to leg side and little edge on the bat and caught by the wicketkeeper. after sometimes, Hashim Amla was also out and two new players on the crease as De Bruyn and Hamza start to make a partnership. as hear from people there Hamza played wonderful strokes on his debut as from his batting it does not look like that he was playing his first match because he was playing so fast and easily. De Bruyn and Hamza made useful 75 runs partnership which took South Africa to one respectable total. De Bruyn made 49 runs and Hamza made 41 runs. once both out, South Africa struggle to pass 300 runs and all out on just 262 runs which were a very low score from where they were in a commanding position of 1-132.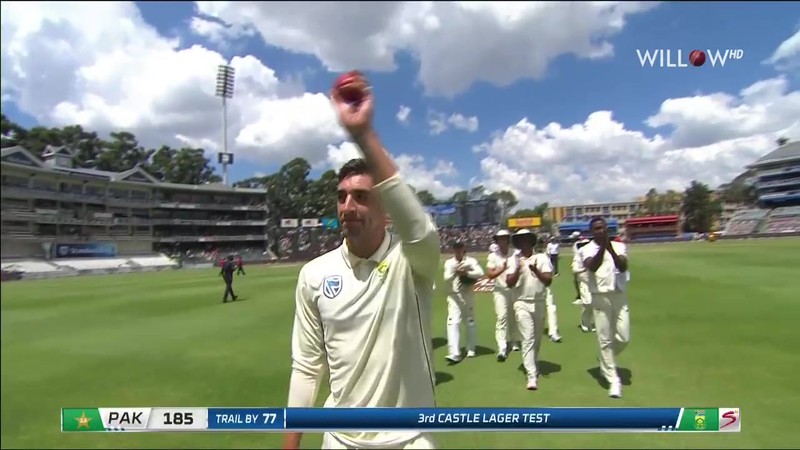 Pakistan also loses early wickets like previous test matches and their top order again fail for good batting as one stage its look they will all out under 100 runs but Babar Azam and Sarfaraz did good batting as they made a partnership of 78 runs. one good thing in this partnership is that they made it so fast as they were playing like ODI and their scoring rate is 6 runs per over. Sarfaraz was out on 50 which came from just 40 balls whereas Babar Azam out on 49 in just 55 balls including 10 fours. once again Duanne Olivier did good bowling on crucial stage and took 5 wickets in the match. it is his 3rd 5 wickets hall in this series and he was top wicket-taker in the series. Pakistan still struggling against Olivier and kept losing wickets against him. Philander also took 3 useful wickets and Rabada took 2 wickets. Pakistan was all out on just 185 runs which means South Africa had 77 runs lead before the start of the 2nd inning which is healthy lead due to the moment in pitch.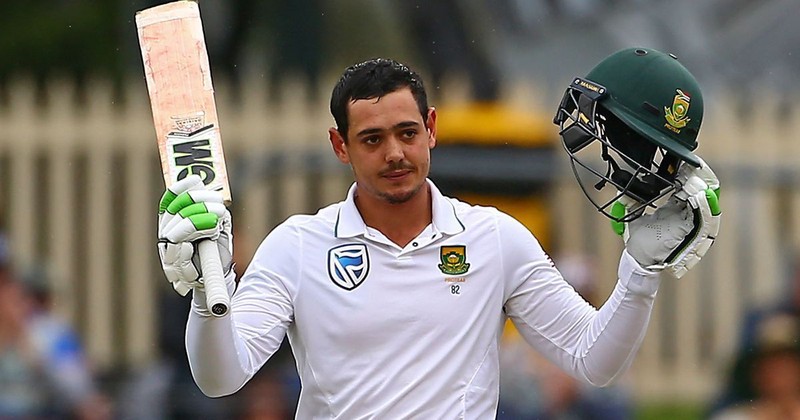 as we seen how pitch behaved its look like the match will be over in 3 days as bowlers were dominated on the first 2 days of the test match. South Africa did not start well as they lost 4 wickets early at just 45 runs and it looks like Pakistan back in the game but Amla and De Kock spoiled water on last Pakistan's hope because they made 102 runs useful partnership for 6th wicket. Amla was out on 71 runs but then its time came of De Kock as he kept playing his attacking inning and made a brilliant century on a very tough pitch where bowl swinging and uneven bounce in tough condition. De Kock made 79 runs partnership with Rabada and took his team total to 303 which means South Africa gave 381 runs target to Pakistan which looks almost Impossible because so far in this series they never cross 300 marks. De Kock play 129 runs of a crucial inning in just 138 balls which turn winning percentage to South Africa. from Pakistan side, Faheem Ashraf and Shahdab Khan took 3 wickets each.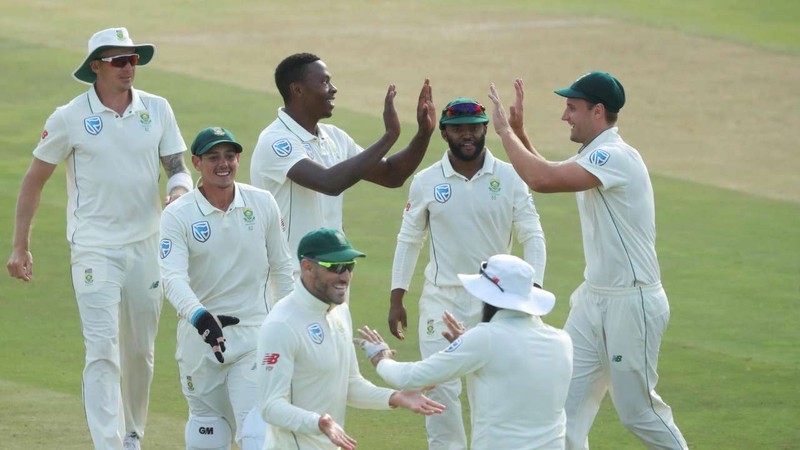 Its a tough chase for Pakistan to 381 runs in the 4th inning but they did a good start this time as their opening pair looks in good mood but Dale Steyn has shown his class and took 2 wickets in quick section and broke an opening partnership of 67 runs. Pakistan has still hope that their experienced player will give a fight but same problem again of Azhar Ali as cant handle short pitch delivery and lose his wicket. Pakistan now 104-3 from 67-0. Asad Shafiq and Babar Azam kept alive hope of Pakistan and kept playing attacking inning as this time Shafiq was more aggressive then Babar and not lose more wicket at the end of day 3. generally South Africa did start with Steyn and Philander on morning session in previous matches but this time Elgar gave bowl to Duanne Olivier who took many wickets in series and also gave the first breakthrough to South Africa by did out Babar Azam by another Short pitch delivery. very next ball Sarfaraz was bowled by one brilliant in swing delivery and Pakistan was on backfoot again. at last Shafiq also caught in slip by Elgar by Philander so now Pakistan was towards another defeat. Shahdab Khan played some good shots and made 47 runs but not able to take his team to victory as Pakistan all out on 273 runs and it means South Africa won the match by 107 runs. Asad Shafiq made 65 runs where Rabada and Olivier took 3 wickets each.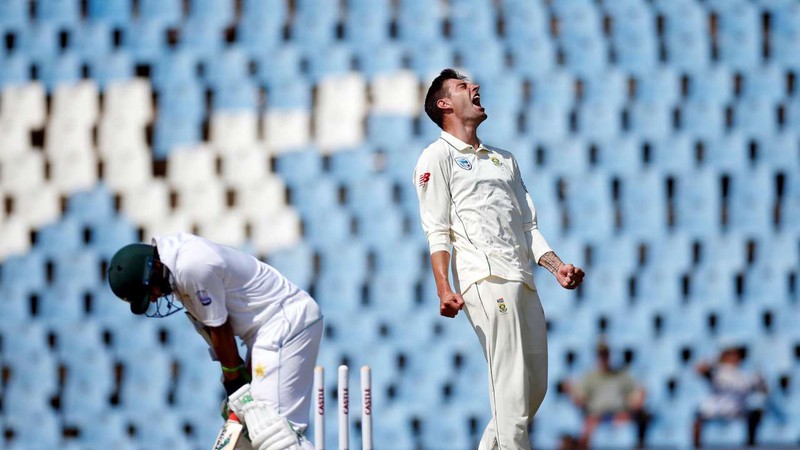 Quinton De Kock named a man of the match awards for his wonderful knock of 129 runs in just 138 balls with 18 fours and 1 six. De Kock this inning came at a right time while his team needed of it. Duanne Olivier named a man of the series awards for his wonderful bowling in the whole series as he took 24 wickets in 3 match series. South Africa got another good bowler which is good thing because he has such a talent to bowl short pitch delivery with pace and swing and thus he took most wickets in short pitch delivery. Pakistan also got good opener Shan Masood who has such good quality and techniques in any condition so in short overall for me there are 2 players who will be watching out for next time and till enjoy ODI series which will start from Saturday.