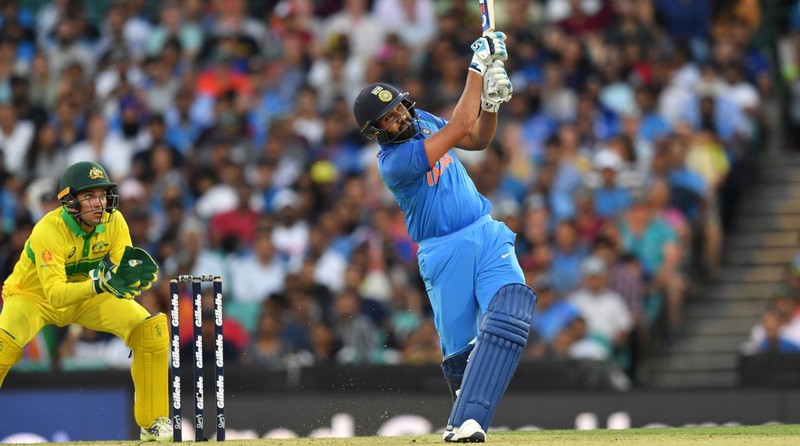 Today everyone recognizes Rohit Sharma as a flamboyant opener, the guy who has second-most hundreds in international cricket behind Virat Kohli. All this has come after the year 2013 but before this Rohit Sharma to many was only a talented kid who plays effortlessly but is not consistent. Today I will be looking at the not-so-famous Rohit Sharma knocks.
30*(16) vs PAK at Johannesburg(SA) T20 2007
The final of the t20 world cup 2007 it was. Indian senior players like Dravid, Tendulkar, and Ganguly had opted out of the tournament as it was quite different to the cricket they had played till that stage. This opened doorways for a young Rohit who had quite aggressive and had recently scored 309* in Ranji Trophy. Rohit played a gem of innings giving India a perfect end to the innings after India were 111-4 in 15.2 overs his knock played a vital role in reaching a total of 157, a match which India won by just 5 runs.
50*(40) vs SA Durban(SA) T20 2007
India went into this tournament on the banks of just four experienced players in Ajit Agarkar, Virendra Sehwag, Harbhajan Singh, and Yuvraj Singh even the captain Dhoni was not that experienced at that time. Yuvraj Singh the star of the previous game against England missed out due to injury, India was without him in a must-win game. Hence Rohit Sharma got the first opportunity of the tournament and he did not disappoint. While India was tottering at 61/4 in 10.3 overs he builds an 83 run partnership with MS Dhoni taking the score to 153/5. Here was a 20-year old kid hooking fast and furious Ntini on a bouncy Durban wicket.
66 vs AUS Sydney(AUS) ODI 2008
The most famous knock of Rohit Sharma the middle-order batsman. It was the final of the VB Series and India was just losing grip on the game India were 87/3 and the team needed 240. Rohit combined with Tendulkar to add a 123 run stand after that India went on to win not only the match but also the tournament, but this knock justified the talent of Rohit Sharam and proved it to the world that thins bloke could bat.
79*(46) vs AUS Bridge town(WI) T20 2010
Much of a lone warrior innings AUs hammered Indian bowling attack posting an imperious 185 to win. India never looked in the game but Rohit kept fighting till the very end. India was 12/2 when Rohit arrived on the crease. The wickets never stopped tumbling as India looked completely out of the game as they were 50/7 in 10.3 overs but Rohit kept going as India ended on 135 all out in 17.4 overs. Rohit never got support from any batsman as the only person to cross 10 was Harbhajan Singh with 13 to his name.
114(119) vs ZIM and 101*(100) vs SL Bulawayo(ZIM) ODI 2010
Till this time Rohit had played 42 innings with no hundreds to his name, his average was just 25 and after these twin hundreds, he remained silent till 2013 after which a sea of hundreds erupted. This time, India sent a young team to Zimbabwe to play a tri-series against Sri Lanka and Zimbabwe. Rohit hit two consecutive hundreds in this series. His hundred against ZIM, his first went in vain but the second against Sl came in a winning cause. India just won a sole game against SL out of four and failed to qualify for the finals.

86*(91) vs WI Antigua(WI) ODI 2011
If this isn't the best Rohit Sharma knock under pressure then I don't know which is probably 122 vs SA in the world cup is the closest. India is chasing 226 seems quite easy right? No, the batting order crumbles 3-60, 4-79, 5-88, 6-92 now it looks a herculean task. Rohit and Harbhajan steady the ship and build a 88 run partnership, Singh scoring 41 of those but still, the task is not done yet 46 were required of the next 9 overs but Rohit and Praveen Kumar ensure that there are no more casualties and the team wins by 3 wickets.
83(93) vs ENG Mohali(Ind) ODI 2013
The knock which gave us Rohit Sharma, the opener. All thanks to Dhoni who was persistent with this guy till the very end. A guy who batted at an average of 30 and just threw his wicket at the incorrect time. England gave India a target of 258 and Rohit Sharma the opener nailed it, after this, he never stopped. Although he was unable to finish the task he made a huge contribution to the team's win and a huge leap into his own career. This match gave India a new, different and elite version of Rohit Sharma. Finally, he was able to justify his talent and elegance.
---
To end this blog a video where Rohit is appreciated by the legends of the game. These comments were actually made before Rohit became an opener so you can actually see how much blessed he was.
And four minutes of Rohit Sharma press conferences. They are fun.