In the ongoing match between India and England, the sudden boy with a young girl made such a move that everyone looked at the big screen, the players stopped the match and then ...

During the ongoing one-day match between India and England in London, a young man sitting in the spectacre offered a wedding by presenting his favorite ring, the scene came into the camera's eye, and during this time the exciting scenes were also seen.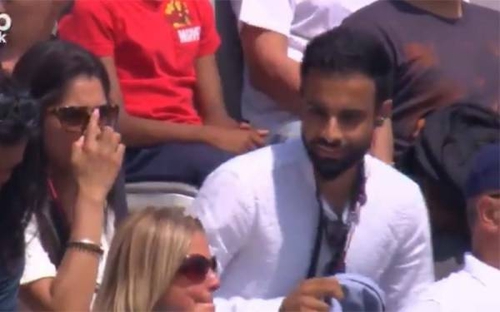 According to the details, during the match, the most fascinating wrestling match between India and England was on the run that Cameron jammed at the very beautiful couple sitting in the squares, and as soon as the young realized that the camera was on her side, she had a moment He also sat on his knees without sacrificing and thrown a young girl ahead of offering a wedding, watching this scene, was not silent even by the observers and he started a committee with a third emperor, the scenes on the screen The players kept playing in the field and watching the big screen on the screen and the match I stopped, when the girl was wearing the ring I do not wish to give new life to both the clapping throughout the stadium, including the players who were in the field.
The boy is identified as Kuban, which is an Indian citizen while the girl's name is Pandob. Talking to media during media, Kuban said that this project always used to run in its minds .But to reach it It was not easy I talked about the England cricket board and many officials of the Lord's administration, but I received an email in the morning at the match, which said yes yes it might be possible and they are from the 22th to 28th. Will be between
Looking at this scene, the girl just said that "I really do not believe and yet I am not able to believe it." The climb says that his next year is intended to marry in August.
During the second ODI match between India and England, a young man went down on his knees and proposed to his girlfriend.