Unbeaten Shakib Bangladesh win
Bangladesh lost the match after losing four T20 matches to Afghanistan. Skipper Shakib Al Hasan led the team in the midst of a failure.
Mushfiqur Rahim and Mossaddek Hossain have provided him two partnerships. Bangladesh reached the winning position by 4 wickets with 6 balls in hand. Shakib was unbeaten on 45 off 70 *. Mosaddek was unbeaten on 17 off 11 balls for a six.
Batting in the target of 139 runs, the team returned to the pavilion with 12 openers. Mujib-ur-Rahman started with the departure of Leighton Das, who was 4 for 10 in a rotation. Nazmul Hossain Shant (5) fell in the next over. The skipper Shakib Al Hasan and Mushfiqur Rahim started the fight. They were in danger in the third wicket with an average of 58 runs.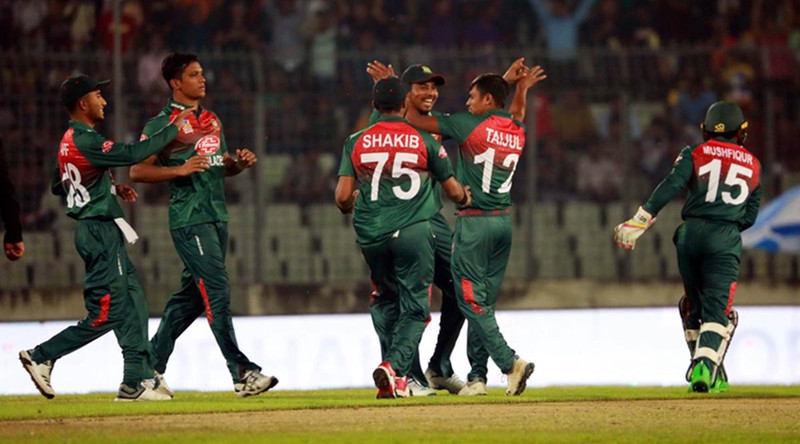 The pair broke after Mushfiqur (26) returned after Karim. Bangladesh lost the third wicket by 70 runs. Shakib was fighting alone.
The game was closed for 7 minutes when the fieldlight was switched off in the 13th over. Mahmudullah Riyad (6) became the LBW in the rotation of Rashid Khan soon after the power came. Nabin-ul-Haq fell for 1 run while Sabbir Rahman got the chance. In the meantime, Shakib picked up his 9th half-century off 34 balls. Afif, who became the hero in the first match of the series, scored two runs in the Rashid Khan rotation. At this point, Mossaddek was accompanied by captain Shakib. Bangladesh reached the wicket by 4 wickets with 6 balls in their hands. Shakib was unbeaten on 45 * 8 four 1 sixes. Mosaddek was unbeaten on 17 off 11 balls for a six.
Afghanistan lost 138 for seven in 20 overs as Chittagong lost the toss at the Zahur Ahmed Chowdhury Stadium. Bangladeshi bowlers have been bowling controlled from the beginning. However, Mahmudullah skipped an easy catch by Rahmatullah in the second over. He got the chance to open two huge openers for 75 runs. Afif returned the ball to Hazratullah Jazai, who scored 47 off 35 balls in the 10th over. Just one ball later, the young man returned to Asgar Asghar Afghan (0).
Then Mustafizur Rahman joined the wicket. Hazratullah Jazai, who made 29 off 27 of the other openers, picked up the 'master of cuttings' after eating the beaten. All-rounder Mohammad Nabi (4) became the LBW in the rotation of Shakib Al Hasan. Gulbuddin Naib was run out of brother-brother duo Mushfiq-Mahmudullah. Saifuddin stopped Najibullah Jardan (14) from being in great form. Another pacer Shafiul picked up Karim Janat (3). Afghanistan were able to take 138 for 7 in 20 overs.