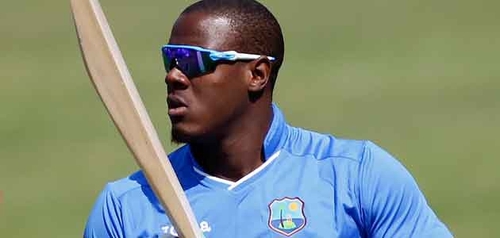 All-rounders have always been a special breed. Good all-rounders have shown how they change the game with their dual skills. In the modern age, the role of an all-rounder has become that much more vital with the game becoming so fast paced.
Today there are many talented all-rounders in international cricket. However, not many have been able to live up to their potential. Here is a look at five such names.
@Carlos Brathwaite (West Indies)
"Carlos Brathwaite! Remember the name!!" Ian Bishop had shouted into the mike as the burly West Indian all-rounder had smashed four consecutive sixes in the last over to win West Indies the World T20 2016. Many thought that a new star had emerged. But, unfortunately, Brathwaite has failed to live up to his promise. Except for a few cameos here and there, the West Indian has been struggling. He averages a mere 13.45 in ODIs with the bat and has only managed 231 runs in T20Is in 26 games. As a bowler too he has been pretty expensive and doesn't really do anything worthwhile.
@Marcus Stoinis (Australia)
While he has played some good knocks for Australia with the bat, especially in ODI, Marcus Stoinis has been a disappointment with the ball. He averages 66 in ODIs and 38.57 in T20Is with the ball. Those are shockingly bad numbers for a seam bowler. His economy rate is on the higher side as well as he keep delivering loose balls regularly. He also has to pick up his batting in T20Is as he averages only 12.20 in the format for Australia. Stoinis has the talent. He needs to work on consistency.
@Colin de Grandhomme (New Zealand)
Here is another burly all-rounder who has the ability to strike the ball hard and bowl some tight overs. But Colin de Grandhomme has not been able to perform consistently for his team. He has just one fifty in 39 ODIs and T20Is combined and has taken just 17 wickets at a very high economy rate. In fact, he has an economy rate of 9.28. He has done well in Test cricket, but De Grandhomme has the ability to be a pure all-round match-winner in limited overs cricket. If he can be a little more consistent with bat and add more variations with the ball, Colin de Grandhomme can still be very effective.
@Thisara Perera (Sri Lanka)
Thisara Perera seems to have been around for years in Sri Lankan cricket. And yet, he has never really lived up to his promise as an all-rounder. He has played 133 ODIs and 73 T20Is. But only has 10 fifties combined in them. Even as a bowler, while Perera has taken wickets, his economy has always been on the higher side. He concedes runs regularly and completely crumbles under pressure. Perera has shown glimpses of his talent. But those have been very few and far between. His has been the biggest case of a current all-rounder failing to match his potential.
@Jason Holder (West Indies)
Jason Holder came in as a bowler in the West Indies team. But as he showed his skills with the bat later on, he was considered as a proper all-rounder. But Holder has been pretty average in both the departments in the past few years. He is neither a threatening wicket-taking bowler and nor is he a great striker of the ball. And while he does do well with the ball, his batting talent isn't exactly flourishing except for a few instances here and there. Holder doesn't seem like a proper all-rounder anymore and it is unlikely that he will be able to live up to the initial promise he showed.
http://tz.ucweb.com/7_2X1of