Today, we would be going all the way to Africa precisely South Africa to find our next player profile. South Africa is a country which is known for its exploit in cricket and other sports. Despite being a relatively new country, they have made great strides in sports and can be proud of what they have been able to accomplish. One of the players who are among the achievements of this great nation would surely be Quinton de Kock. He is quite popular among the fans and has surely be rewarded for his exploits. Let us see if we can find some vital information about him.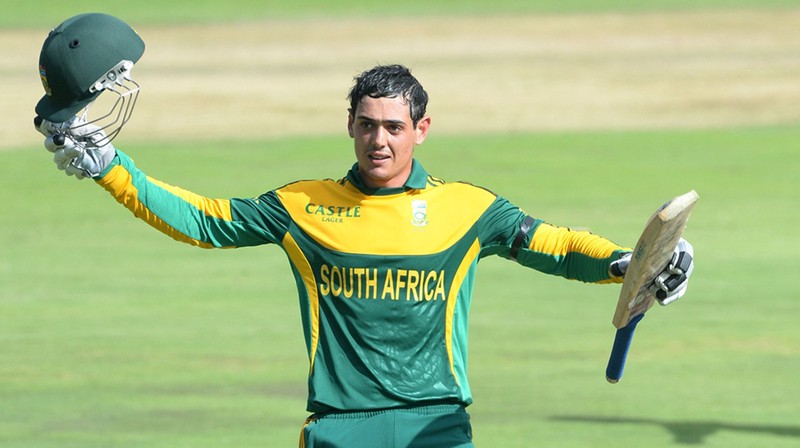 Who is Quinton?
Quinton is a South African cricket player who is well known in his country. Being just 27, it can be rightly said that he is at the peak of his career. The records certainly support that analogy as he is surely among the best in the most current ICC rankings which were released from this year. Apart from the international team which he plays for, he also plays for the Titans in South Africa. He is also part of the Mumbai Indians who play in the Indian league.
During his early days on this earth, it was clear that he was going to go far in the sports. At that early age, he was recognized for all the things he could do and was even used to play in the Old Eds Club which was quite popular then. He would even go on to play in the Under-19 world cup which was probably every young cricket player dream there. In the match against Bangladesh, he would have a blast and go on to score 95 out of the 131 balls which were played that day. It was only natural that he would become a fan favorite then.
There are a number of notable things that he has achieved so far. The one which would stand out to him would surely be the cricketer of the year award which was handed to him during the annual awards in South Africa. He also has the record of the second-fastest player to reach 11 ODI centuries. He is only behind fellow South African player Amla. He is also the player with the fastest time for his country to reach 1000 runs. He has been very much active in the international scene and has participated in ODIs, Test series and even the T20 matches.
Personal Life
It is always nice when cricket players have great lives off the pitch and Quinton certainly lives up to this expectation. After dating his girlfriend Sasha Hurly for quite a while, he finally decided to tie the knot with her and they got married in 2016.
Conclusion
If there is one thing that we can be sure of, it is the fact that Quinton has surely done well for himself already. You can expect some mouthwatering experiences both now and in the future from the man from South Africa.