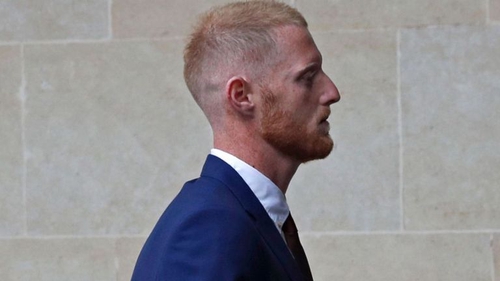 The 27-year-old all-rounder appeared at Bristol Crown Court on Monday for the first day of a trial in which he is accused of punching Ryan Hale, 27, to the ground then allegedly knocking out Ryan Ali, 28.
All three are accused of affray - which they deny.
Stokes denies mocking the gay men and said he stepped in after Hale and Ali made homophobic remarks, while the prosecution said Stokes himself was mocking the two men.The court heard Stokes was mimicking the voices and mannerisms in "a derogatory way" of Kai Barry and William O'Connor, who were at the Mbargo club in the Clifton Triangle area of Bristol on 25 September last year.
Prosecutor Nicholas Corsellis said CCTV showed Stokes flicking his cigarette butt towards Mr O'Connor's head as he and England team-mate Alex Hales spoke to the pair.
Mr Corsellis told the jury that the club's doorman, Andrew Cunningham, "observed Mr Stokes's behaviour towards them".
He said Mr Cunningham "noted that he was mimicking their voices and mannerisms in what he described as 'a derogatory way', thereby making fun of their camp behaviour. The CCTV footage, which does not have audio, suggests that sort of behaviour did take place, with Mr Stokes copying hand gestures made by the men.
"The discussion and behaviour continued but took a turn that caused Mr Cunningham some concern."
The sportsmen had entered the club with the rest of the England cricket team at about 11.30pm on 24 September.
Mr Cunningham said Stokes offered him £60 then £300 for re-entry at 2.08am and became abusive when this was refused due to licencing conditions.
The prosecutor said: "Mr Cunningham had cause to be concerned when he saw Mr Stokes take either the unlit butt or the butt of his cigarette and flick it onto Mr O'Connor's head.
"Mr Cunningham said to Mr Stokes, 'if you want to start on anyone, start on me'."
The court heard Mr Hales had not seen Stokes flick the cigarette butt and asked Mr Cunningham why he was annoyed.