Nepal in the first round of ICC T20 Qualifier is in Malaysia playing ICC World Twenty20 Asia Region Qualifier. Nepal has already secured its spot in Asian Regional Finals in Qatar. Nepal's impressive run continued as they defeated the neighbour China by 10 wickets in its second last game of the tournaments. Also, Nepal comfortably is on top spot with enormous run rate than Singapore as both team have 10 points each after 5 games. In the final game, Nepal will take on Singapore which will decide the Champions of this tournament.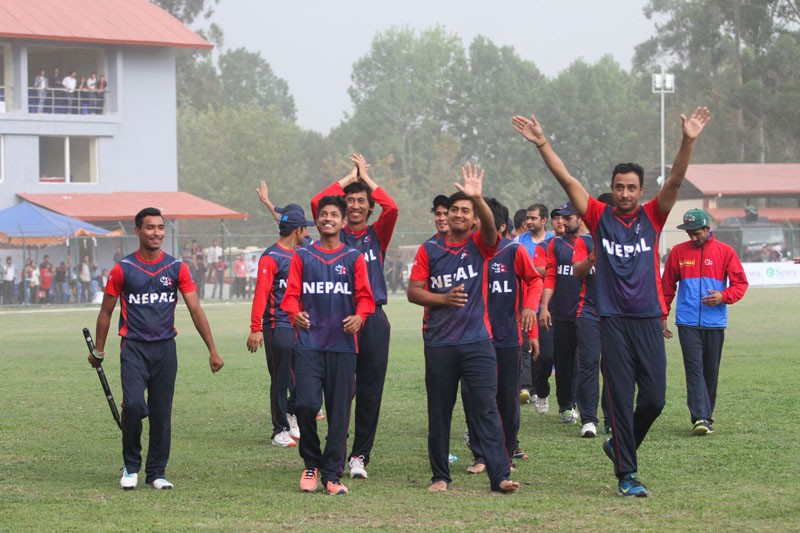 In the fifth match at Bayeumas Oval, Kulalampur, there were three significant changes in Nepali side as Captain Parash Khadka, Sompal Kami and Karan KC were rested. Malla captained Nepal for the first time in this tournament and he won the toss and invited China to bat first.
Against weak China, Nepalese bowlers dominated, as usual, picking the first wicket at the end of the second over. The opener batsman Sun was bowled by Lalit Rajbansi and the score was 6/1 for China. After the loss of the first wicket, HJ Yan and Chen Jinfeng remained on the pitch adding 15 runs for China until Aarif caught Chen on the ball of Sandeep Lamichhane. Unfortunately for China, the partnership that took them to 21/2 turned out to be the best partnership in the match. Once again, Nepal's bowling was too hard to handle for the opponent and Chinese player rushed to return back to pavilion one after the other. From 21/2, China was all out for 26 runs. The trio of Lamichhane, Lalit Rajbansi, and Basant Regmi collected three wickets each. China's opener batsman HJ Yan got 11 runs, the highest in China's inning while 8 Chinese players were out for the duck. Unlike other days, disciplined Nepal's bowling conceded 9 extra runs today.
Chasing 27 runs, Nepal started again with Pradeep Airee and Binod Bhandari. In the first over, Nepali openers thrashed Tian Sen Qun scoring 21 runs with two fours and a six. Nepal was just six runs away from the win, then Chen Jinfeng came to bowl the second over. In the first four balls of that over Nepali batsmen were able to score four runs, and in next ball, Binod Bhandari hit four and Nepal won the match with ten wickets. Binod Bhandari scored 24 runs off eight balls, and Airee scored four runs off three balls. Sandeep Lamichhane once again was judged as the Man of the Match. Nepal is at the top of the table as it stands:

From the table, Nepal and Singapore have already qualified for the next round. Malaysia should be other teams to join as they face the weakest team China in their final game. With the win, they should move above Thailand in terms of run rate. China along with Bhutan and Myanmar are already eliminated from the tournament. Here is the final score from today's match: https://www.icc-cricket.com/match/9286#scorecard