Bismillahir Rahmanir Rahim
Assalamualaikum wa rahmatullahi wa barakatuh, how are you all friends? I hope you are all very well, I am also very well in your prayers.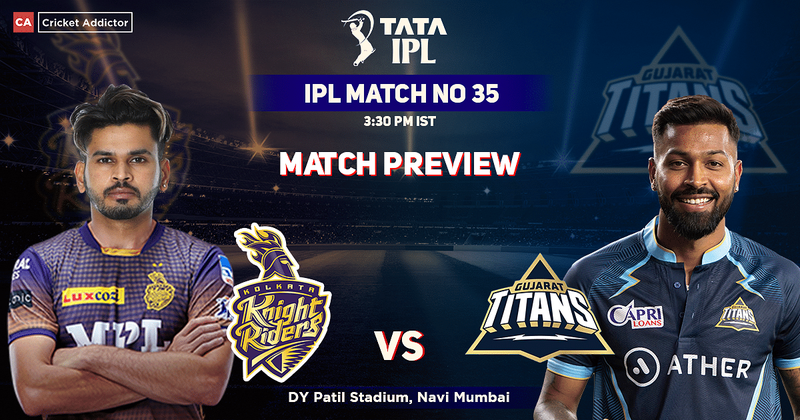 The 35th match of Indian Premier League (IPL) 2022 was held yesterday, in which Kolkata Knight Writers and Gujarat Titans faced each other, in which Gujarat Titans won by 8 wickets.

Gujarat Titans captain Hardik Pandey won the toss and elected to bat first.

Gujarat Titans captain Hardik Pandey scored 67 off 49 balls, including four fours and two sixes, followed by David Miller (27 off 20 balls), Riddhiman Shah (25 off 25 balls) and Rahul Tewatia. Collected 17 runs off 12 balls, and no batsman could meet the double-digit quota, 10 runs from extra.

Kolkata Knight Writers bowlers Andrew Russell took 4 for 5 with 1 over, Tim Southee took 4 for 24, 3 for 4, Umesh Yadav took 1 for 31 off 4 overs and Sivam Mavi took 1 for 36 off 4 overs. Does.

The Kolkata Knight Riders lost 8 wickets for 148 runs in the allotted 20 overs at the target of 157 runs. As a result, they lost by 8 runs.

Andrew Russell top-scored with 48 off 25 balls, while Rinku Singh scored 35 off 28 balls, Suresh Ayre scored 12 off 15 balls, and Umesh Yadav scored 15 off 15 balls. 7 runs comes from extra.

Among the bowlers of Gujarat Titans, Mohammad Sami took 2 wickets for 20 runs off 4 overs, Rashid Khan took 2 wickets for 22 runs for 4 overs, Yas Dial 4 overs for 42 runs for 2 wickets, Algerie Joseph 4 overs for 31 runs for 1 wicket and Loki Ferguson for 4 overs. He took 1 wicket for 36 runs.

Rashid Khan receives Man of the Match award.

Thanks everyone for reading my post today.