Bismillahir Rahmanir Rahim
Hello cricket lovers, how are you all? I hope you are all very well, I am also very well in your prayers.

The 67th match of the Indian Premier League (IPL) was played yesterday, in which Royal Challengers Bangalore and Gujarat Titans faced each other, in which Royal Challengers Bangalore won by a huge margin of 8 wickets.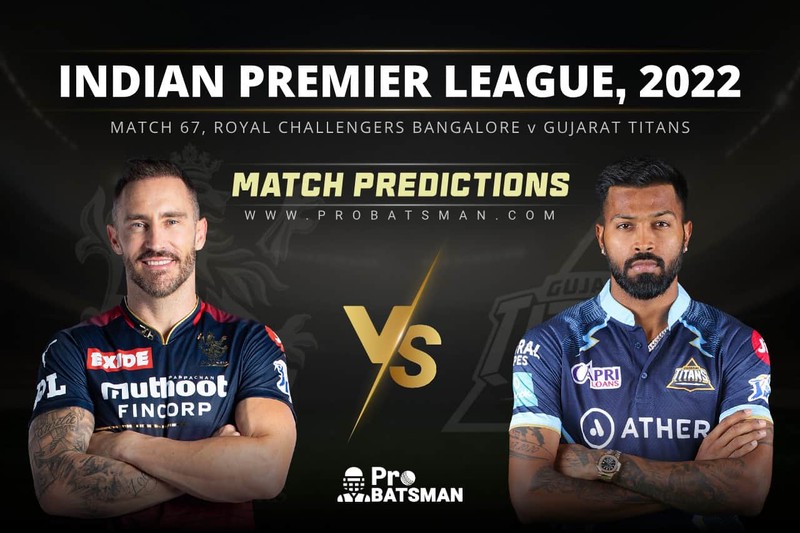 The biggest aspect of yesterday's match is that Virat Kohli was able to run, we all know Virat Kohli is one of the best batsmen in the current world of cricket, he was not getting runs for a long time, he scored 73 runs in yesterday's match Do a series of runs.

Gujarat Titans captain Hardik Pandey decided to bat first after winning the toss in yesterday's match. Gujarat Titans lost 5 wickets in 20 overs and scored 168 runs.

Hardik Pandey was the top scorer among the Gujarat Titans batsmen with 62 off 47 balls, followed by David Miller with 34 off 25 balls, Riddhiman Shah with 31 off 22 balls, Rashid Khan with 19 off 6 balls and Matthew Wade with 16 off 13 balls. 3 runs Comes from extra.

Among the bowlers of Royal Challenge Bangalore, Jos Hazlewad took 2 for 39 off 4 overs, Glenn Maxwell took 1 for 28 in 4 overs and Vanindu Hasaranga took 1 for 25 off 4 overs.

The Royal Challengers Bangalore reached the target after losing just two wickets in 18.4 overs at the target of 169 runs, so they won by 8 wickets.

Among the Royal Challengers Bangalore batsmen, Virat Kohli top-scored with 73 off 54 balls, while Faf du Plessis scored 44 off 38 balls, Glenn Maxwell scored 40 off just 18 balls, and Dennis Karthik scored 2 off 2 balls, 11 off extra.

Rashid Khan was the only bowler in the Gujarat Titans to take two wickets, he bowled 4 overs and took 2 wickets for 32 runs, and no bowler took a wicket.

Virat Kohli won the Man of the Match award.

Thanks everyone for reading my post about today's game.